Neil Warnock says David Beckham is no longer a QPR target
Last updated on .From the section Football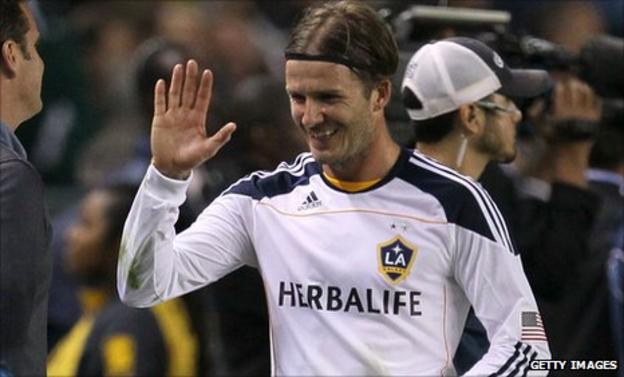 QPR boss Neil Warnock has said David Beckham is no longer a transfer target for the club.
The 36-year-old midfielder's contract with Los Angeles Galaxy runs out after their Major League Soccer final with Houston Dynamo on 20 November.
Warnock was hoping Beckham's desire to play for Great Britain in the 2012 Olympics might entice him to London.
But asked whether he would be signing the former England captain in January, Warnock said: "No, I can't see that."
Warnock explained that he intends to concentrate on other targets instead.
"We're not there yet, we're a team in the making," he commented.
"We've some very important signings to make in January which we are working on now, to give us that push towards the end of the season.
"At the moment we've very good players in those areas [where Beckham plays], and we're looking to strengthen other areas.
"So, until we're an established club, I think we have to get our priorities right."
Several clubs, including Paris Saint-Germain, are believed to be interested in the former Manchester United and Real Madrid player.
Warnock - speaking at the Abu Dhabi Grand Prix as a guest of QPR and Team Lotus owner Tony Fernandes - added that he did not think signing a player of Beckham's calibre would be beyond a club of QPR's stature.
"No, not really," he said. "I like David, he is down to earth. It wouldn't bother him playing for QPR. He would play for the local team if he had to - he is that kind of guy."