Kettering Town players receive a percentage of month's wages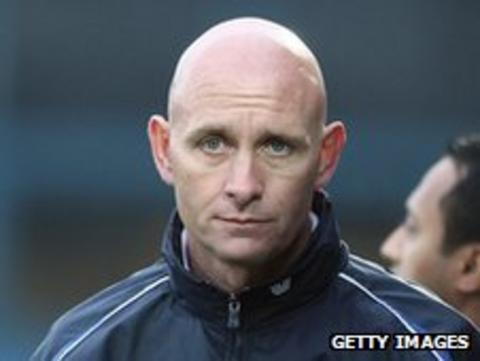 Kettering Town boss Mark Stimson has confirmed that the squad have currently been paid only a percentage of their month's wages.
The Poppies lie 19th in the Blue Square Bet Premier, and exited the FA Cup at the first round stage to Sutton United.
Stimson told BBC Radio Northampton: "I know it can be difficult if you haven't been paid, but as a professional player, you've got to stay focused.
"In the modern day, a lot of clubs are in this situation or worse."
He added: "The boys have got to roll their sleeves up and get on with it and prove their worth."
The Poppies boss has admitted to frustration that there has been no interest in the 11 players who were listed for loan or transfer in September.
"Every manager wants [to sign players and make] his own team, and sooner rather than later," he said.
"I knew it would take time when I came in, but there's only a certain amount of money and we haven't got any to improve the squad at the moment."
Stimson currently has Kiernan Hughes-Mason, Stephen O'Leary and Moses Swaibu in his squad on non-contract terms.
"I'll be speaking to those this week to see where we go," he said. "What they've done so far has been outstanding and they haven't [made] a financial gain out of it.
"But they need to pay bills like everybody does. I'm hoping we can come up with something for those three, because if they were on contracts, they would start every game."
The club are, however, hopeful that Norwich winger Josh Dawkin will remain on loan at Nene Park.
"We hope to tie that up today. Josh is happy, Norwich have said they'll give us a second month and that's only good news for us."