Tottenham's Emmanuel Adebayor vows to make Togo impact
Last updated on .From the section Football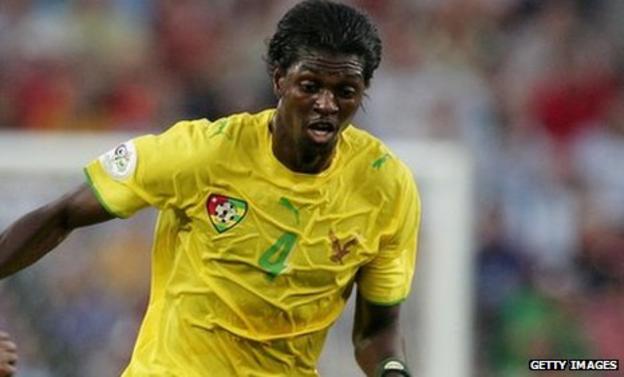 Togo striker Emmanuel Adebayor has vowed to give of his best when he returns to action for the Hawks on Tuesday after a two-year absence.
The 27-year-old will start the return leg of their 2014 World Cup qualifier against Guinea Bissau in Lome.
This comes after the Tottenham striker rescinded his decision to retire from international football last week.
Many fans turned up at the Togo border to meet the striker as he arrived from neighbouring Ghana to join the team.
The Hawks drew 1-1 in the first-leg of the qualifier against Guinea Bissau on Friday and the striker is delighted to return in time for Tuesday's game.
"As you can see there are many fans who came to greet me at the border. If I miss this match on Tuesday it will be a great shame," Adebayor said.
"I need to act as professionally as possible which I know how to do. I will have to have my game face on for Tuesday.
"I have changed my decision and I am very happy. I am back in the fold. I am returning to Togolese football."
The Hawks have struggled without the Tottenham striker and failed to qualify for the 2012 Africa Cup of Nations.
On the eve of last year's Nations Cup, the Togo team was attacked by gunmen as they made their way from a training camp in Congo to Cabinda in Angola.
The response in the aftermath of the attack prompted Adebayor to retire from the Hawks but he was convinced by federation officials last week to return to the fold.