Quintet set for 2014 World Cup qualifying group phase
Last updated on .From the section Football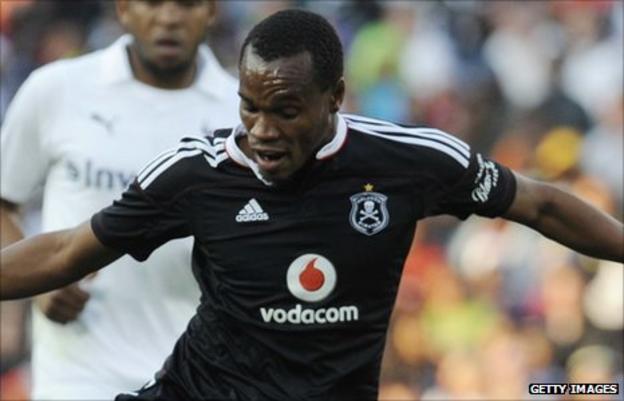 Congo are among five countries well-placed to reach the group phase of the 2014 World Cup qualifiers when the second-leg preliminary matches take place across the continent on Tuesday.
The Red Devils thrashed Sao Tome e Principe 5-0 in the first leg of the game played in Sao Tome on Friday.
With the return leg being played in Brazzaville, Congo have been tipped to advance after making light work of their opponents in the first leg.
Namibia are also favourites to qualify after their impressive 4-0 first leg win over Djibouti.
A brace from South Africa-based striker South Africa-based striker Rudolf Bester helped the Brave Warriors to their victory in Djibouti.
Despite their emphatic first-leg victory, Namibia coach Bernard Kaanjuka says his charges must leave no stones unturned.
"It is up to the players to deliver and display great qualities of national team calibre, and discipline is very important too," Kaanjuka said.
"The guys are showing the dedication to do well for the team and after the Djibouti away win everyone is still on their toes to try and finish the job at home, and if they can do what they did away or even better I will be happy."
"We are at home, (with a) home crowd and all and the temperature is ideal for us unlike in the hot temperature up in Djibouti.
"I believe and wish the guys will give the nation great value (to the fans) for coming through the turnstiles tomorrow night."
Kenya who thrashed Seychelles 3-0 on Port Victoria are poised to advance while DR Congo's 3-1 away win over Swaziland give them the edge.
Togo will be boosted by the return of Emmanuel Adebayor when they host Guinea Bissau in Lome after their previous clash ended 1-1.
The 11 overall winners will join Liberia, who received a bye when cash-strapped Mauritius withdrew, will advance to the group phase of the competition next June.
That is when Africa's top 28 nations begin their campaign, with a total of 10 four-team groups advancing the winners to the third and final round of qualifying.
In all, Africa will stage 152 qualifiers to determine which five teams will reach the 2014 World Cup.
Five teams will represent Africa at the first World Cup staged in Brazil since 1950.