Inter Milan keen to re-sign Manchester City striker Mario Balotelli
Last updated on .From the section Football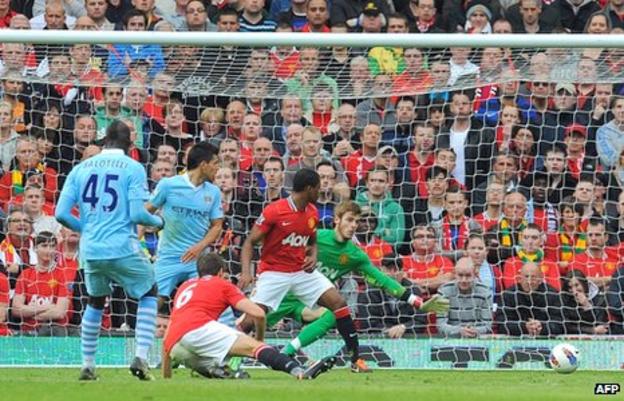 Inter Milan president Massimo Moratti admits he would like to see controversial Manchester City striker Mario Balotelli return to the club.
"I would take Balotelli back tomorrow," said Moratti. "I've always had a lot of admiration for him.
"I think he's starting to do really well thanks to [City coach Roberto] Mancini and his experience in England."
Balotelli, who scored his first goal for Italy in the 2-0 win over Poland last week, had a mixed time at Inter and was forced to publicly apologise after wearing the shirt of his boyhood heroes AC Milan on an Italian television show.
He was also heavily criticised when he threw his shirt to the ground after being booed by Inter fans for a poor performance against Barcelona.
The 21-year-old was frequently dropped by former Inter coach Jose Mourinho for disciplinary reasons and Moratti said: "I don't have any regrets over selling him.
"At the time, certain things happened that made it difficult to keep him. But if I had the chance, I would sign him tomorrow morning."
Balotelli's time at City has also not been without incident, including throwing a dart at a youth team player, being substituted for an allergy to the pitch in Kiev, and last month he escaped unhurt after a firework launched inside his house set his bathroom alight.
The president is not the only member of the Inter hierarchy interested in the enigmatic forward.
Coach Claudio Ranieri, the former Chelsea boss, said: "I would welcome him with open arms. He's a stunning talent. But I haven't spoken with the dressing room to see if there would be an aversion to seeing him again.
"Balotelli has matured, he has found the right path thanks to Mancini. It's up to him to understand how much it suits him to act the rebel. Balotelli can be one of the best footballers in the world, but it's up to him."