Chelsea unable to prove claim of racist slur directed at Daniel Sturridge
Last updated on .From the section Football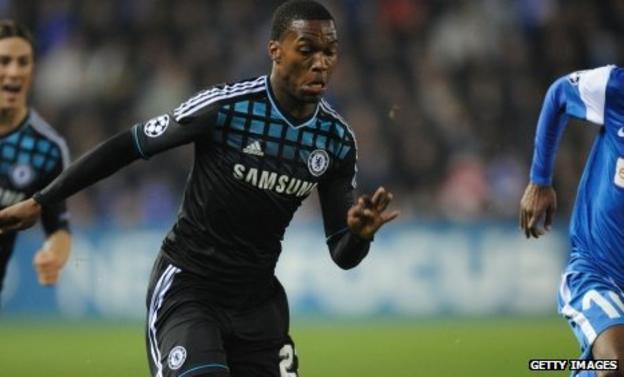 Chelsea have confirmed they have been unable to prove allegations of racism directed at Daniel Sturridge by one of their fans in a Champions League match.
The alleged incident occurred during last month's 1-1 draw at Genk.
However, none of the 16 supporters interviewed during their investigation was able to corroborate the accusation.
A Chelsea spokesman said: "In spite of very lengthy enquiries, the evidence did not identify any individual as being responsible for the comments."
The Blues are already conducting an inquiry into alleged chants about QPR's Anton Ferdinand during the same match.
Some of the travelling fans were believed to have chanted "Anton Ferdinand, you know what you are", in apparent support for Chelsea captain John Terry, who is being investigated by police and the Football Association over claims he used a racial slur against the Hoops defender.
The claims involving Sturridge came from another supporter, who said he heard "they are bringing on the monkeys" emanate from an exclusive area of seating at the Cristal Arena as the striker prepared to appear as a substitute.
"As with all such reports, the club takes such issues very seriously and has conducted a thorough and detailed investigation," a Chelsea statement said.
"This has involved interviewing 16 supporters who, according to the seating plan, were sat in the area of the stadium concerned. A formal statement was also taken from the complainant.
"No other witnesses reported having heard the alleged comments or anything similar. For these reasons, the club is unable to take any further action.
"We should stress that the club welcomes the diligence of all supporters to report any behaviour which is offensive and unacceptable and will always treat any such complaint seriously."
Sturridge joined Chelsea in 2009, then spent half a season on loan at Bolton during the 2010-11 campaign.
The England forward has made 11 first-team appearances for the Blues this season, scoring five goals.