Mark Bright says racism is 'still a problem' for football
Last updated on .From the section Football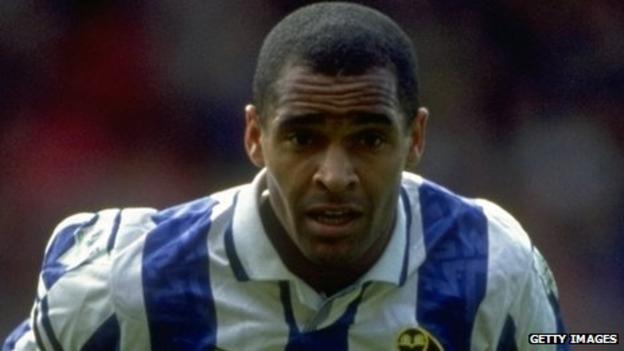 Former Premier League striker Mark Bright says football has "been kidding itself" that racism is no longer a problem.
Bright says the abuse he and other black players - current and past - receive on Twitter shows it is still a major issue.
"Twitter is proof racism has only been suppressed," he said.
Bright, now a football pundit, said he had been racially abused numerous times on the social networking site.
"I love Twitter, I think it's a fantastic tool," he told BBC Sport.
"It allows me to engage with fans and find out what's going on at different clubs - but there are downsides to everything.
"When you say something about someone's team, that's when you see the bad side of people, when level-headed opinion can turn into abuse.
"Last year I was asked who I thought would be relegated from the Premier League and I said 'Blackpool'. I was inundated with abuse from Blackpool fans.
"This year I was asked the same question. I said 'Norwich' and was abused again. Rather than say, 'No, I think you're wrong', there are people who said, 'You black-this and black-that', or, 'Why the hell are the BBC paying you to do your job?'.
"Recently, there were two guys and they were being very racist towards me. One of the guys linked to his Facebook page and he's a dad, married with two kids. I was staggered at what he'd written."
Bright said he was called "a gorilla" and "a coon". The abuser even accused Bright's "ancestors" of being responsible for AIDS.
"So-called fans sat behind a keyboard still think they can say things like that to anyone in the public eye and feel safe," added Bright. "Well, they can't."
Fifa president Sepp Blatter said on Wednesday that racist incidents on the pitch could be settled by a handshake, although he later claimed he had been misunderstood.
Blatter's comments came at a time when Chelsea captain John Terry is being investigated by the police and the Football Association over alleged racist remarks made to QPR defender Anton Ferdinand.
Liverpool's Luis Suarez has also been charged by the FA for alleged racist comments towards Manchester United's Patrice Evra.
And Bright added: "How ironic that Blatter has now taken to Twitter in an attempt to pour cold water on hot coals.
"It just goes to show the power of the medium but I wonder if, in his case, it might be too late to start banging the drum in his defence?"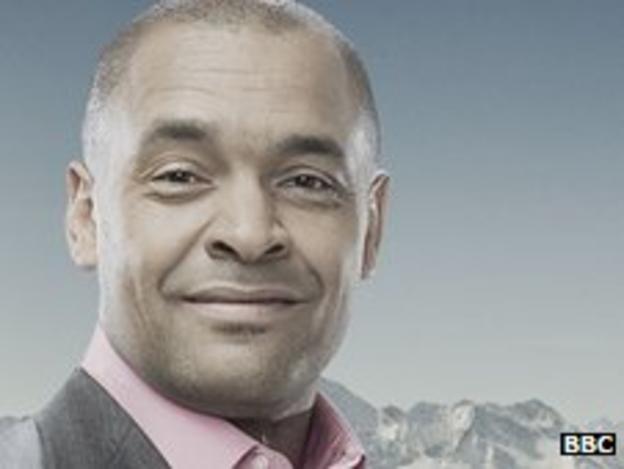 Bright, who played for Crystal Palace and Sheffield Wednesday during an 18-year professional career, says the problem was highlighted this past summer.
He said: "When James Vaughan joined Norwich from Everton, I tweeted to say, 'Good luck to James Vaughan with his move to Norwich'. Someone replied to say, 'I don't want any more blacks at Norwich. We've got enough, if you want to watch blacks and foreigners, go to see Arsenal'."
The pundit highlighted the man's comments so they would be read by more people.
He added: "I retweeted what he'd written and, to the enormous credit of Norwich fans, they hammered the guy, the club banned him for life and he ended up in the national papers."
Bright is not the only high-profile ex-player or player to have complained about abuse on Twitter, with police investigating alleged racial comments made towards Newcastle United's Sammy Ameobi and Sunderland's Fraizer Campbell.
Bright said: "We all love banter, it's what makes football great. I can handle banter from the stands all day, the away fans singing and chanting, criticism from home fans. But abuse, and especially racist abuse, is unacceptable and against the law.
"I'd like to think it's a minority of people but it is still out there. People have to be held accountable. If you punch someone in the face in the street, you'll get arrested.
"People think you can abuse other people on Twitter - 'I can say what I like and call it banter' - but it is not all right, it's racial abuse.
"But they will start getting prosecuted, people will have convictions and people will lose their jobs.
"The amount of racist incidents is relatively small. We've come a long way but we're kidding ourselves if we think racism in football has gone away."
Danny Lynch, from anti-racism organisation Kick It Out, said Twitter administrators needed to look at how they can properly police unacceptable comments and "act swiftly" upon them.
"The misuse of Twitter tends to overshadow some of the undoubted benefits it has given to how we communicate about all facets of the game," Lynch told BBC Sport.
"There appears to be an element of self-policing from users but Twitter has unearthed a community of people who feel it's a safe haven in which to mete out racial abuse.
"For many, Twitter has offered a reality check that attitudes to racism in football, although improved substantially in recent years, aren't as enlightened across the board as we would like or hope for. Access to social media is so easy, it's a predictable consequence that the mindless minority get heard, too."
Norwich City say they will continue to take strong action against any of their fans who are guilty of racism, whether on Twitter or anywhere else.
"It's something all clubs are taking very seriously," said club press officer Joe Ferrari. "If we have someone shouting racist abuse in the stands, we need other people to bring it to our attention - and we need people to do the same on Twitter."