Tottenham's Emmanuel Adebayor makes Togo return
Last updated on .From the section Football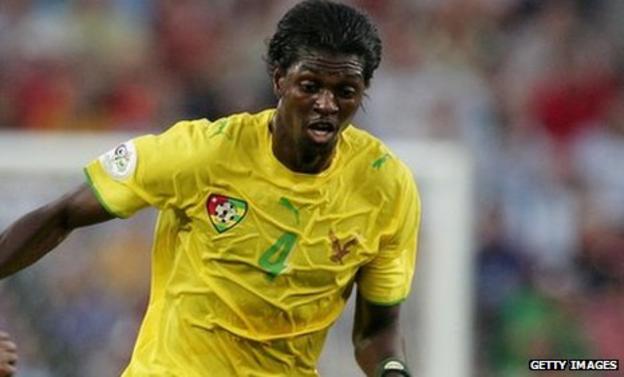 Togo striker Emmanuel Adebayor returned to action for the Hawks on Tuesday after a two-year absence.
The 27-year-old played the return leg of their 2014 World Cup qualifier against Guinea Bissau in Lome.
The Hawks beat the visitors 1-0 to reach the group phase of the qualifiers thanks to their 2-1 aggregate triumph.
The Tottenham striker's return comes after he rescinded his decision to retire from international football last week.
The Hawks have struggled without the Tottenham striker and failed to qualify for the 2012 Africa Cup of Nations.
On the eve of last year's Nations Cup, the Togo team was attacked by gunmen as they made their way from a training camp in Congo to Cabinda in Angola.
The response in the aftermath of the attack prompted Adebayor to retire from the Hawks but he was convinced by federation officials last week to return to the fold.