Premier League will not be cut to 16 - Richard Scudamore
Last updated on .From the section Football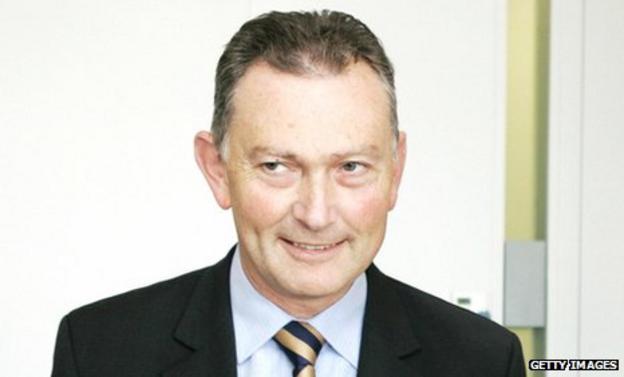 Premier League chief executive Richard Scudamore has rejected a proposal by Barcelona president Sandro Rosell to reduce the top flight to 16 teams.
Rosell's suggestion came with the aim of playing European fixtures at weekends and cutting the number of international games.
Scudamore said: "Well, that's very nice of him to issue that as a statement but that's a very Barcelona-centric view.
"Our clubs have no view to be playing European football on a weekend."
He added: "European football is a midweek competition and domestic football is a weekend competition."
Rosell, who is also vice-president of the European Club Association (ECA), had said: "We have to convince the Premier League to reduce to 16 [teams].
"We could perhaps play Barcelona versus Manchester United on Saturdays."
Rosell says such scheduling cannot happen while the top flights of England, Spain and Italy continue to include 20 clubs.
"It's something all of them [the domestic leagues] would have to agree to," he said. "The objective of reducing from 20 to 16 teams is to give more space to our players.
"Then, once the dates are liberated, these dates are not for the [national] federations. The dates are for the clubs to organise friendly games or to increase the European competitions."
Speaking at conference in Doha, Qatar, Rosell even suggested a European breakaway league, led by the ECA, if the number of clubs is not reduced.
With the ECA's memorandum of understanding with Uefa expiring in 2014, the organisation is pushing for change.
Rosell remains hopeful of working alongside European football's governing body but warned a split could happen if an agreement is not reached.
"We want to have the Champions League under the Uefa umbrella but we want them to hear our demands," Rosell said.
"If Uefa and the ECA reach an agreement, then that's good for both parties. If not, with or without the Uefa umbrella, the ECA is entitled to organise their own champions' competition by themselves."
But Scudamore rejected the idea of a breakaway league, saying: "It's just not going to happen. What has been said has been said but I'm not going to go along with the sentiment.
"In reality, we have a Champions League, it's a fantastic competition.
"Obviously, there are some things the clubs would like to alter and, ultimately, discussions will take place and Uefa will do something to make sure things stay intact.
"When it comes to ultimate football sanctions, you just can't break away."