Trapattoni says Greek triumph can be Republic template
Last updated on .From the section Football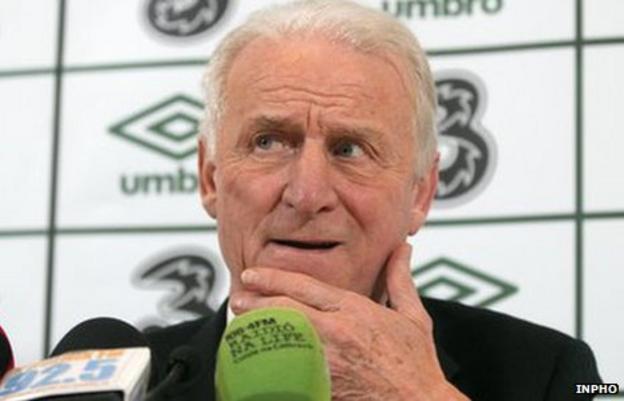 Giovanni Trapattoni says his Republic of Ireland team should aim to emulate Greece's shock 2004 triumph at next summer's Euro 2012 finals.
"With this group [of players], why not [match Greece]? It's not a dream," said the 72-year-old Italian.
"I hope only that we have no injuries and no suspensions."
The Irish secured qualification for their first major finals since the 2002 World Cup with Tuesday's draw at the Aviva Stadium which rounded off a comprehensive 5-1 aggregate victory against Tarmo Ruutli's men.
Stephen Ward delighted the 51,151 Dublin crowd by putting the Republic ahead in the first half and Konstantin Vassiljev's second-half leveller was merely a brief break in the celebrations.
Qualification was vindication for Trapattoni's much-criticised tactics and helped lay to rest the disappointment of the team's heartbreaking failure to qualify for the 2010 World Cup finals.
Trapattoni's achievement looks set to land him a new two-year contract which would see him guiding the Irish in the qualifying campaign for the 2014 World Cup.
The Republic boss said he had never lost faith in his players.
"I am very, very proud for many reasons," he said.
"First, we [him and assistant Marco Tardelli] have come here [to Ireland] with an important objective and aim and while we were in a difficult group last time we could have achieved qualification. But we started again.
"We have started again with a new mentality and the players believe in our system.
"We have also discovered the second, important options in terms of players.
"They have shown how important they have been for us. We have improved our quality."
Qualification will provide a huge boost to not only the Football Association of Ireland (FAI), debt-laden following the redevelopment of the Lansdowne Road venue, but also to a public which has born the brunt of the larger financial collapse.
The FAI will earn an automatic £6.8m for qualification and draws in Poland and Ukraine will net the Republic nearly £430,000 with victories yielding close to £860,000.
Trapattoni has always declared his affinity to the Irish people, and added he was delighted to be able to put some cheer in their lives.
"I like the Irish people. I was born in a village and I like Ireland. It's like my life in Italy.
"For this reason, I am proud as I understand what Irish people wish for and dream about so I am happy for this moment.
"I understand the Irish people's mentality.
"We must always believe we have the possibility. Our team can not only dream but can play against all the bigger teams.
"We have played against Argentina and Brazil and played well and not deserved to lose."