Supporters plan a march in protest against Everton's 'stagnation'
By Phil McNulty
Chief football writer
Last updated on .From the section Football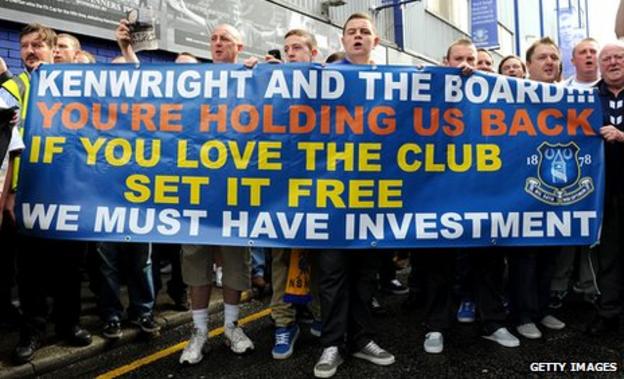 Everton supporters will stage a second protest march against the club's board of directors before Saturday's game against Wolves at Goodison Park.
The first protest was staged before the home game with Aston Villa in September - and they will now march again against what they regard as Everton's stagnation under chairman Bill Kenwright.
In a statement, The Blue Union said: "The failings of the current board of Everton FC have never been better evidenced for the wider footballing world to see.
"The further sales of key players during the summer transfer window and subsequent lack of reinvestment have seen manager David Moyes fight bravely to keep an inadequate squad on the parapet of the relegation zone."
Everton, however, have responded strongly to confirmation of the march by insisting they share the objectives of The Blue Union, insisting that the club is on the market and talks about fresh investment and ownership continue with interested parties.
Director of Communications Ian Ross told BBC Sport: "The irony is that that The Blue Union wants precisely what the club's board of directors' wants - sufficient fresh investment to ensure that we can achieve what has always been - and always will be - our number one priority, which is to fully support the manager and his ambitions."
Ross added: "As we have repeatedly stated, this football club is available for sale. We have also made it clear we have opened up lines of communication with various interested parties. Talks with these parties are ongoing.
"As anyone inside football will tell you, nothing can be achieved overnight. I suspect that 99% of our fan base do understand two things - that the club is on the market and the board will only do a deal that is in the very best interests of the club and which will safeguard the club's future, not just in the short term but in the long term."
Indian construction giants the Jain Group were the latest to be linked with an Everton takeover, but it is understood they were one of a dozen initial approaches in the last year and have given no indication that they are formulating a bid.
The statement from the supporters' group added: "Interest in the club from potential buyers, whether genuine or otherwise, appears to have heightened significantly since the initial protest and associated press coverage.
"The Blue Union has heard the message loud and clear from Evertonians that we must ensure our voices continue to be heard, and that the pressure remains on until the future of one of the giants of British football is secured and the ownership of our club rests in more capable hands.
"As it was back in September, the message to Bill Kenwright and his fellow directors will remain - 'Let Go If You Love The Club'."