Hearts tax bill delays players' wages
By Brian McLauchlin
BBC Scotland
Last updated on .From the section Football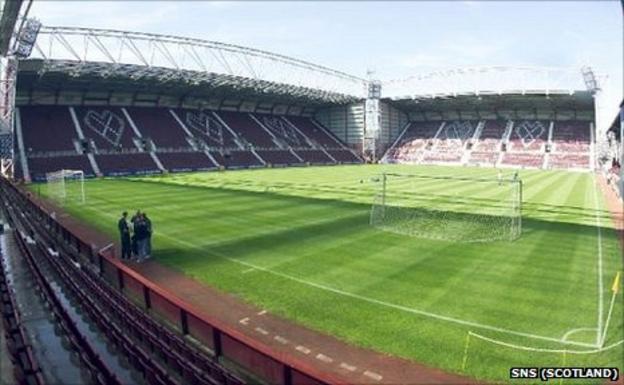 Hearts have confirmed their players have not been paid their latest wages due to the club's need to settle an outstanding tax bill of over £1m.
A statement on the club's website said players, who have been informed, would be paid "at the earliest opportunity".
The Edinburgh club also alluded to "an income shortfall" and the need "to identify new income opportunities".
Players' October wages were also delayed, with the squad eventually receiving money earlier this month.
The Tynecastle outfit is more than £30m in debt and is looking to reduce operating costs.
The squad had to wait 19 days for last month's pay but were persuaded not to complain to the Scottish Premier League by manager Paulo Sergio.
Earlier this month owner Vladimir Romanov indicated that he would consider selling the club, and a Tynecastle statement revealed that spending on players would fall.
BBC Scotland has learned that one of the reasons for the income shortfall is due to former keeper Craig Gordon - who was transferred to Sunderland for £9m in 2007 - not playing a sufficient number of matches for the English Premier League club, which would trigger an automatic payment to Hearts.
A Hearts spokesman said: "We expect salaries to be paid into the senior players' accounts at the earliest opportunity and have informed the players of this today [Wednesday].
"The clubs is experiencing an income shortfall due to lower than expected transfer monies. Our future funding is secure but requires time to be organised.
"The club also unfortunately failed to reach agreement with HMRC which would have allowed it time to pay a tax bill in excess of £1m, that was settled in full yesterday.
"As such we are currently looking at options to identify new income opportunities and obtain funding for the players' salaries."
"Hearts must prepare to reduce investment in the playing squad to match the income in the coming season and turn to the Academy for its new additions," read a statement on the club's website."
Meanwhile, PFA Scotland has expressed concerns about the latest delay and plans to hold talks with Hearts' players over the coming days.
Chief executive Fraser Wishart said: "We are disappointed that once again our members' wages have not been paid on time.
"I wrote last month to the club asking for an undertaking that they would take steps to ensure that this would not be repeated.
"Once again there will be an expectation that our members will simply turn up to train and play without any certainty as to when they will be paid.
"I have therefore emailed the club today to once again ask for a definitive undertaking as to when the wages will be paid.
"We will be in discussions on this matter with our members in coming days.
"Our members are only too aware of the various legal options open to them as they have had to suffer this previously."