Republic legend Liam Brady lauds Trapattoni triumph
By John Haughey
BBC Sport NI
Last updated on .From the section Football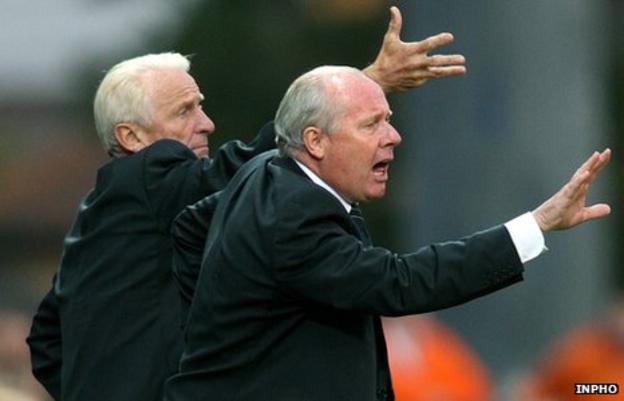 Liam Brady was entitled to take as much pleasure as anyone as the Republic of Ireland sealed their qualification for Euro 2012 on Tuesday night.
Brady goes back a long way with Republic boss Giovanni Trapattoni.
Il Trap, as Juventus manager, signed Brady for £500,000 from Arsenal in the summer of 1980 - a couple of months after the Irish midfielder had helped the Gunners beat the Italian giants in the European Cup Winners' Cup semi-final.
Trapattoni's judgement was rewarded as Brady shone in a star-studded Juve team which won back-to-back Serie A titles.
Nearly 30 years later, there was only one man Trapattoni was going to contact when agents working for the Football Association of Ireland came calling about the task of restoring the country's soccer fortunes after Steve Staunton's less-than-successful reign.
"He was in the frame for the job then he got in touch with me," recalls Brady.
"All I said was that I believed that the quality was there to make a good fist of qualifying for World Cups or European Championships.
"He was a bit worried that he might be coming into a no-hope situation after seeing the previous results and he did have other options at the time."
After his appointment, Trapattoni insisted that Brady would join his backroom team and the Arsenal head of youth development remained part of the Republic set-up until reluctantly having to step away in March of last year because of club commitments.
"I think I helped above all familiarise him with the landscape of the players," recalls Brady.
"Some of the up-and-coming players, like Glenn Whelan, Keith Andrews, Shane Long, Stephen Ward - all these boys hadn't really figured that much for Ireland and it was a case of getting to know them.
"But I work at Arsenal and I was spending far too much time away from my job, so I had to step away.
"Otherwise I would have stayed on gladly."
Thirty years on from their first encounter, Brady had found the same pragmatic but effective Trapattoni.
"One thing that always comes across in his teams is that the players have to do a job for the team.
"He has no favourites. All those things create spirit among the players and they go on from there. That's what's happened over the last few years with the Irish team."
Brady even believes that he can see something of the Trapattoni method in the Manchester City side that Roberto Mancini and Arab money has fashioned.
"Italian coaches are in the main, very cautious.
"If you look at Mancini now at Manchester City, they are very cautious and they like to keep things tight at the back.
"Trapattoni is like that but plenty of his teams have been very attractive to watch. It depends on the calibre of player that you have."
With Euro 2012 qualification secured, there have been suggestions that Trapattoni could try to develop a more expansive playing method in upcoming friendly games before the tournament starts in June, with the likes of Everton's Seamus Coleman and Wigan's James McCarthy getting their chance.
Brady is not so sure.
"I wouldn't be surprised if it does change it but I'd say it's more likely to stay the same.
"It's going to be difficult. There's only one game in February and then you probably have to have the squad set in stone by the time friendlies come around in May."
Trapattoni ignored an Irish media clamour to have Andy Reid in the squad during the early part of his reign and the manager has remained steadfastly loyal to central midfielders Whelan and Andrews despite criticisms of a number of their performances.
"Whelan and Andrews have done the job for him," insists Brady.
"You look at results the team has had and the small group of players we have to pick from and the calibre of player that we have to pick from.
"They've played their part in the results that we're getting. There are no Graeme Sounesses out there, no John Giles or Roy Keane."
There are no Liam Bradys for that matter - a point that gets a modest nod from the Arsenal head of youth development in response.
As for the suggestion that qualification must offer Trapattoni vindication after the brickbats he received from critics, Brady is again shaking his head.
"I don't think he thinks like that. He just gets on with his job."