Wigan winger Victor Moses undecided over Nigeria
Last updated on .From the section Football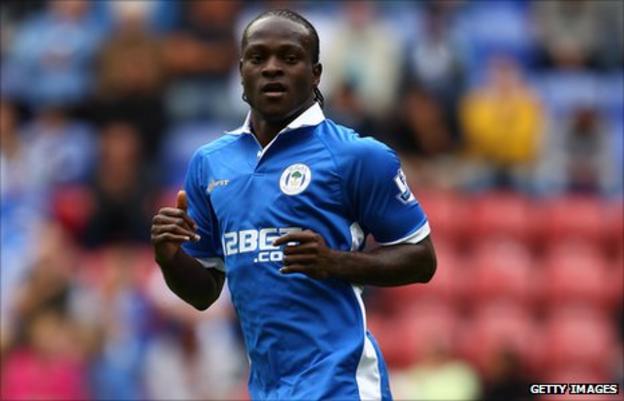 Wigan winger Victor Moses could still decide to represent Nigeria despite his no-show for the Super Eagles' squad last week, according to his agent.
The 20-year-old was called up by coach Stephen Keshi for the friendlies against Botswana and Zambia this week.
However, Moses withdrew from the squad the day before it was due to assemble citing personal reasons.
His excuse was condemned as 'ridiculous' by the Nigerian Football Federation (NFF)'s technical committee chairman Chris Green.
The NFF has even threatened to report Moses to Fifa but his agent Tony Finnigan explained that the former Crystal Palace player had been scheduled to move house at the weekend.
"They called Victor for a friendly and he happened to be moving house so he couldn't go," Finnigan told BBC Sport.
"If he had come back on Wednesday and then had to move and prepare for a Premier League match on Saturday it would have been tough for him.
"This international break is over and he didn't go but Victor can still play for Nigeria in the future."
Having failed to qualify for January's African Nations Cup in Gabon and Equatorial Guinea, Nigeria's next competitive match will not be until June - when the qualifying campaign for the 2014 World Cup begins.
Finnigan acknowledged that leaves the door open for Moses to delay his decision to play for them in the hope of getting a call-up for Fabio Capello's England squad.
"Victor is eligible to play for both Nigeria and England so he is entitled to make a choice," he said.
"He was born in Nigeria and it's in his blood, but he is domiciled in the UK and he has a British passport, so if England want to call him then they can.
"It would have been different position if Nigeria were about to play in a tournament but we will just have to wait and see what he decides when then the time comes.
"I can't stand in Victor's way - if they pick him in June, then he has a big decision to make," Finnigan added.
After signing for Wigan from Crystal Palace for £2.5 million in January 2010, Moses has featured in every Premier League match for Roberto Martinez's side so far this season.
Talks over extending his deal that expires in 2013 began last month but Finnigan expects nothing to be resolved just yet.
"We had discussions a month ago and I haven't heard anything since. But he's got 18 months left on his contract so it's not an issue at the moment," he said.
"Wigan wanted to reward him with another contract for doing so well and of course you have to negotiate that."