Dunfermline to close North Stand to reduce costs
Last updated on .From the section Football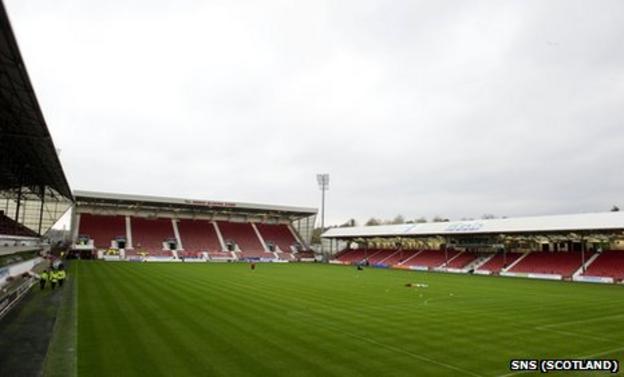 Dunfermline Athletic are to close the North Stand at their East End Park to reduce costs.
The club say their board took "the enormously hard decision...with great regret" but that it will save the club "well over £20,000 per season".
"We sincerely hope that our fans will understand the reasons behind this decision," said chairman John Yorkston.
"We do hope that in the future we will be in a position that we can reverse this decision."
Closing the stand will reduce police and stewarding costs, the club say, and the money saved will be used to fund fuel costs associated with undersoil heating.
"It seemed the most sensible option," Yorkston added on BBC Radio Scotland.
"We've already got half the stand closed and that's the oldest stand that we have, so the facilities aren't as good.
"Plus, we've got more season ticket holders in the Norrie McCathie stand."
Dunfermline were promoted to the Scottish Premier League this year after winning the 2010-11 Scottish Football League Division One championship.
The Pars' website said: "The club are also fully investigating all costs and savings that would be made by introducing an all-ticket entry policy on match days.
"The board's aim this season is to consolidate DAFC's place in the Scottish Premier League and are working hard to further reduce our overheads, so that we are able to absorb the impact of the ongoing deterioration in the general economic climate, which unfortunately has led to a reduction in attendances and commercial income for all clubs.
"The season ticket holders who will be affected are being asked to go in to East End Park and choose an alternative seat in either the Norrie McCathie or the Main South Stand at no extra cost.
"Those fans affected will also receive a voucher to be used in hospitality or the club shop for their inconvenience."