Alan Shearer impressed by England squad depth
By Alistair Magowan
BBC Sport
Last updated on .From the section Football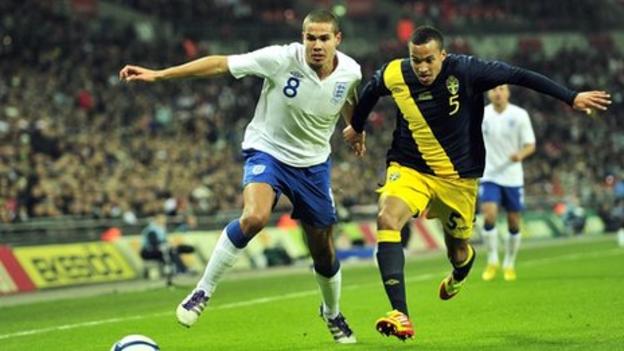 Former England captain Alan Shearer thinks Fabio Capello has a better crop of players to choose from than at any time during his reign as England boss.
Manchester United's Phil Jones, 19, Everton's Jack Rodwell, 20, and Tottenham's Kyle Walker, 21, featured in the wins over Spain and Sweden.
Shearer said: "Two or three years ago you could probably name England's team but I don't think you can do that now.
"There is more competition for places than there has been for a long time."
England achieved the two 1-0 victories at Wembley without the likes of Wayne Rooney, who is appealing a three-match Euro 2012 suspension, and injured players Steven Gerrard, Jack Wilshere and Ashley Young.
Manchester United defender Rio Ferdinand was not selected in the squad.
With only one more friendly likely to be played before the Euro 2012 squad is announced on 29 May, there are few chances for players outside of the squad to impress.
And Shearer added: "There are not many automatic choices [for the starting XI]. Yes, [goalkeeper] Joe Hart will be one, [centre-back] John Terry is another, if everything goes his way with the [Anton Ferdinand racism] case, and [left-back] Ashley Cole would be one too. But, other than that, there are places up for grabs - and that's great to have."
But Shearer has warned that any optimism for the tournament next summer in Poland and Ukraine should be tempered by 2010's World Cup experience.
In South Africa, England were defeated 4-1 by Germany in the second round after struggling to a 0-0 draw with Algeria in the group stages.
"It's difficult to judge the squad against the last one, because we looked great going into that. We qualified with ease and look what happened," the Match of the Day pundit told BBC Sport.
"England are unbeaten and have put in some very good performances but we all know that the acid test will be when the major tournament comes along."
Resolute displays against the Spaniards by centre-backs Joleon Lescott and Phil Jagielka also called into question whether Ferdinand would struggle to re-establish himself in the England side.
But, although Shearer believes the youngsters breathed new life into the squad, he cautioned against writing off the more senior players.
"There is no fear with the younger players," added Shearer. "They just go out and play, they don't analyse the game too much and they bring a freshness to the squad and that was the case in the games against Spain and Sweden but I wouldn't get carried away.
"I wouldn't say Ferdinand will be worried either, I would never rule him out of the reckoning.
"It is strange because a few months ago everyone was trying to get rid of Frank Lampard but I thought he had a very good game against Spain. All of a sudden people are talking about him being a regular again.
"I would never rule out the experienced players because they have so much to offer."
Manchester City midfielder Gareth Barry said he was impressed by Jones, who has played at right-back for England in the Euro 2012 qualifier against Montenegro, but played in different midfield roles against Spain and Sweden.
And he thinks there are up to 35 players who could make their way into the squad in time for the tournament.
Barry said: "The younger players have come in and shown great confidence.
"There are not just 23 players to pick from. You are probably looking at 30-35 players who have got a realistic chance of coming in..
"The manager has got plenty of options to bring different people in."