Sepp Blatter's racism comments not as big news on the continent
By Andy Brassell
European football expert
Last updated on .From the section Football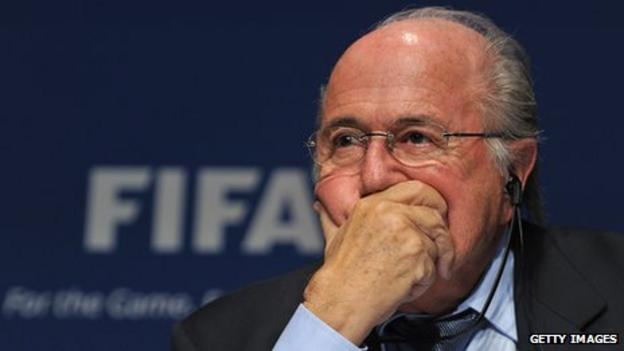 If Sepp Blatter's comments on racism on the football pitch have caused outrage in England, then reaction to the Fifa president's latest foot-in-mouth episode has been reasonably muted in continental Europe.
Neither El Pais nor Catalan daily El Mundo Deportivo carry reports on Blatter's gaffe.
However, Madrid's Marca draws attention to the story and to the angry Twitter response of Manchester United's Rio Ferdinand, as well as the context of Blatter's claims given the investigation of John Terry for alleged insults against Rio's brother, Anton.
There is a good deal of incredulity at Blatter's statements among a footballing public often criticised by the English media for their attitudes towards black players.
Many readers accuse Blatter of having "a nerve", while another suggests he "ask Marcelo" after Real Madrid complained earlier this year that their Brazilian left-back was racially abused by Barcelona's Sergio Busquets - an allegation which was unproven. "Shameless!" concludes another.
It is perhaps surprising that things are even quieter in Portugal. Sports daily A Bola reported Blatter's original comments on its website yesterday - followed two hours later by a piece containing the president's qualifying remarks, almost as if correcting an earlier editorial error.
The murmured response could be explained by the country's most prestigious player of all-time, Eusebio, shrugging off the importance of racism earlier in the week.
On Monday, the Benfica and Portugal legend told journalists that Braga's Alan "was stupid to make public" alleged racist comments by Benfica's Javi Garcia in a recent match - and his words count.
"He said that Javi Garcia called him 'black.' So what is he then?" Eusebio asked. "If they'd have called him white, then he could have been offended. Many times [when I was playing] they called me that and much more besides. If I'd have reacted, I would never have finished a game."
Amsterdam-based De Telegraaf has the issue at the top of its sports pages, even above the bombshell that Louis van Gaal is returning to Ajax as sporting director.
Neither is the inauspicious timing of Blatter's words lost on the Dutch, on the same day that the FA announced the charge against former Ajax player Luis Suarez following his alleged abuse of Patrice Evra.
French newspaper Le Figaro, which also references the timing of the comments amid the ongoing Suarez and Terry cases, paints a bumbling, rather than a devilish Blatter.
"Blatter tangles himself up with racism," reads the headline of an article that fails to fully conceal its amusement at his clumsy attempts to bury the issue on Twitter.
Whereas Blatter's attempt at clarification may have passed for squirming in English-language media, it has sated many on the continent.
From his interminable speech at the host announcement for the 2018 and 2022 World Cups to the "thank you for your question, lady," at the post-corruption allegations press conference, Blatter appears incapable of the finesse in English to negotiate tricky situations - or even easy ones.
Of course, this isn't really continental Europe's concern. Blatter's lack of sharpness in English may ultimately be what saves his job - but not if the British media have anything to do with it.