Back Steve Gibson, Sir John Hall urges Middlesbrough fans
Last updated on .From the section Football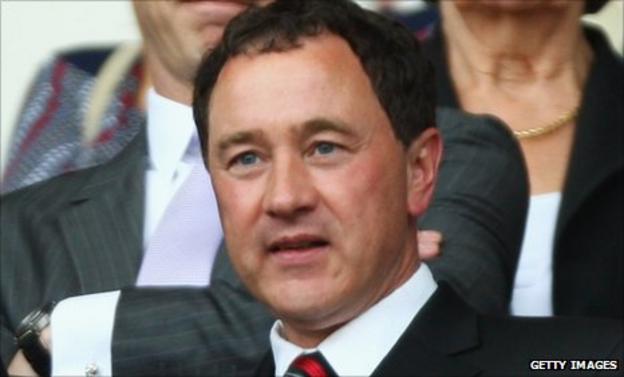 Former Newcastle owner Sir John Hall says Middlesbrough chairman Steve Gibson deserves greater support from fans for his investment in the club.
Gibson, who took over as chairman in 1994, has continued to bankroll the club despite relegation to the Championship in 2009.
"When I see the support he doesn't get, he must wonder if it is worth carrying on," Hall told BBC Tees.
"I feel sorry for Steve, he's done a hell of a job."
Hall, in his spell at Newcastle, was a contemporary of Gibson during the 1990s and early part of the new millennium.
Both came into the football world with clubs in crisis, as Hall took Newcastle out of financial trouble in 1992, while Gibson was part of a consortium that guided Boro out of liquidation in 1986.
What followed saw both north east sides enjoy success, including European football coming Teesside and Tyneside under the respective ownership.
In Gibson's case, he presided over Boro's move to the Riverside Stadium, a first domestic trophy in the 2004 League Cup and a Uefa Cup final defeat by Seville in 2006.
However, dropping out of the Premier League and subsequent failure to secure promotion in the last two seasons, the loss of parachute payments and the carrying of a top-flight wage bill leave Boro in a difficult financial situation.
"They got 13,000 fans the other week, that's not good enough," said Hall. "If you've got a team then you need to support them all the time.
"The players need to see a full stadium to get an atmosphere and Steve needs to see that to get the financial help to keep the club going.
"He must have put millions in, and I probably wouldn't have done what he did."
In contrast Newcastle, who were relegated at the same time as their rivals down the A19, returned to the Premier League at the first attempt.
Survival last season has been followed by an impressive start to the current campaign under Alan Pardew, evoking memories of the last Newcastle side to come out of the Championship in 1993.
Under Hall's tenure as chairman, Kevin Keegan arrived as manager to lead the club into the top tier, and the following three seasons saw the Magpies just miss out on a first championship since 1927.
The end of the Keegan era was followed by disappointing seasons under Kenny Dalglish and then Ruud Gullit, before the arrival of Sir Bobby Robson brought about a second spell of achievement.
Former England boss Robson replaced Gullit as manager in 1999 and his five years in charge saw the return of Champions League football to Tyneside.
"Had we got Bobby Robson two years before we did, Newcastle would've been much stronger," said Hall.
"We got other managers who weren't in his league. If we had got him at his peak as a strong man, Newcastle would have won lots of things."
Hall almost got his wish while Robson was in charge of Barcelona, with whom he won the Spanish Cup, the European Super Cup and the now defunct European Cup Winners' Cup.
"Joe Melling [former journalist] was a friend of ours and of Bobby, he was at Barcelona at the time and in the middle of a two-year contract," added Hall.
"Joe heard that Barcelona wanted Louis van Gaal when Bobby retired, but Van Gaal packed up his present job [at Ajax] in the middle of that contract.
"There were rumours that they had gone for Van Gaal but not told Bobby. Elsie [Robson's wife] said she wanted to come home, so we went to Barcelona, to Bobby's house and told him we wanted him.
"He agreed, said 'Yes, I'll come'. We went away very pleased, but when I rang him that night I knew in his voice he had changed his mind."
Sir John Hall was speaking to the John Foster Show on BBC Tees.