When Ted MacDougall scored nine goals in the FA Cup for Bournemouth
By Nabil Hassan and Adam Blackmore
BBC Sport
Last updated on .From the section Football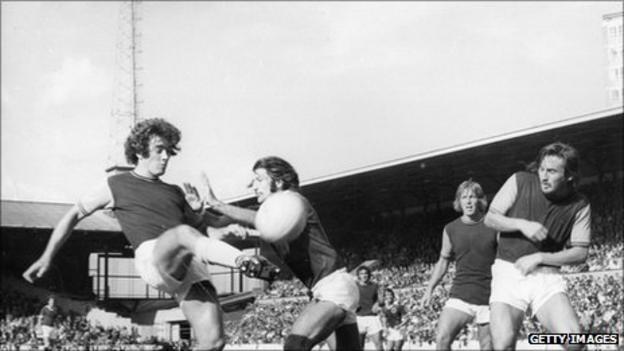 The 20 November 1971 will always be a date firmly etched on the minds of supporters of AFC Bournemouth.
Slade were number one in the charts while Prime Minister Edward Heath was negotiating Britain's entry into the EEC but it was the heroics of Ted MacDougall - dubbed 'Supermac' by the fans - that were grabbing all the headlines.
His record nine goals for Bournemouth, against Margate in an 11-0 FA Cup first round win, turned the Cherries striker into an overnight celebrity.
That record still stands today and 40 years on MacDougall has been reliving that special day.
"I was disappointed as I thought I should have got 11," MacDougall told BBC Radio Solent.
The feat went unnoticed at the time before BBC Radio got hold of the news - with the story then picked up by the national newspapers.
And it was when MacDougall went into training on the Monday that it finally hit home what he had achieved as days later he was rubbing shoulders with Portuguese legend Eusebio and England World Cup winners Geoff Hurst and Jimmy Greaves.
"I've gone into training and manager John Bond has told me he just had a phone call from Geoff Hurst," said 64-year-old MacDougall.
"He was having a testimonial against an all-star world XI at West Ham on Wednesday and wanted me to play in it.
"I couldn't believe it, I was a little player in a small team one minute and the next I'm in London.
"Tommy Docherty was the manager and I was on the bus with Eusebio, Dave Mackay and Jimmy Greaves and all these players I was used to watching on the television.
"We were then at West Ham playing in front of a full house with lots of celebrities and I'm in awe of everything that is going on.
"Anyway I went on and scored and it was an unbelievable experience. I went from being a Fourth Division player scoring nine goals, to playing in a world 11 for Geoff Hurst pretty much overnight."
Cherries club secretary Neil Vacher was in the crowd that day and has fond memories of the game.
"To score nine goals in one game is an amazing feat and I am not sure it is one that will ever be repeated," Vacher told BBC Radio Solent.
"It seemed whatever Ted touched that day ended up in the back of the net.
"I don't think people realised it was a record at the time. I guess we were all a bit stunned."
Margate manager Les Rigg has less fond memories of the game but jokingly perhaps blamed the referee for the result.
"It was chucking it down with rain and after five minutes the referee stopped the game and asked our keeper Chic Brodie to change his shorts," recalled Rigg.
"It affected the game because we were doing reasonably well until that point and then this lunatic made us do that."
MacDougall has many anecdotes from the match, but in particular recalls something he read Brodie saying after the game.
"The keeper always said he thought he was the unluckiest goalkeeper in football.
"He said one day he went to put his flat cap on for a game because it was sunny and he found a hand grenade in it.
"Then when he was playing for Brentford a Jack Russell ran on the pitch and smacked him on the leg and nearly broke it.
"Then during another game the crossbar broke and fell on his head. And then to top it off, Ted MacDougall scored nine goals against me."
Listen to BBC Radio Solent's full feature of MacDougall's record feat including an exclusive interview with 'Supermac' on Saturday's Sports Show from 1400 GMT.