Neil Lennon appeals to Celtic fans over chanting
Last updated on .From the section Football
Manager Neil Lennon has repeated a call for Celtic fans to stop the chants that have brought a Uefa charge against the club.
The European governing body instigated a charge of "illicit chanting" following singing during the Europa League win over Rennes on 3 November.
The Scottish Premier League is also investigating recent claims of offensive chants at Celtic Park.
"These chants have no place around our club," Northern Irishman Lennon said.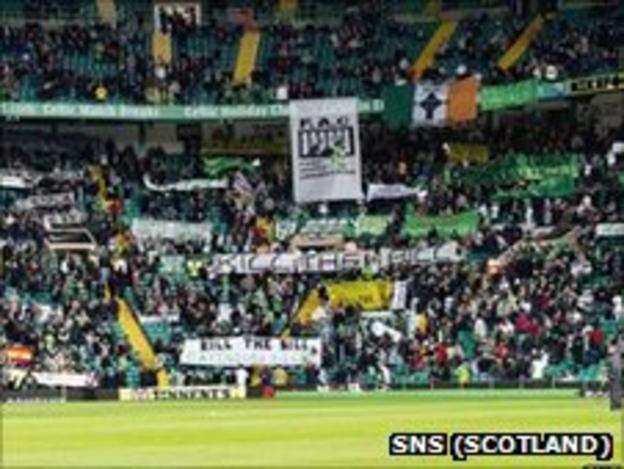 Lennon urged fans to stop the chants in May, a call repeated by chief executive Peter Lawwell last month, and he again pleaded with them to stop embarrassing the club.
"Obviously we can't pre-judge any investigation but I think it's important that we put a general message out that these chants have no place around our club," the Celtic manager said on the club website.
"I know Peter said it at the agm that I was at last month and it is important that we re-enforce that.
"The irony is that the section of fans we are talking about have added a new dimension and vibrancy to Celtic Park, and we know even within that section that it's only a tiny group of fans that are involved in this.
"Ninety five percent of what these fans bring to the game is positive and adds real atmosphere, but we need to make sure that all of the negative stuff is removed. "
Gary Hooper was whisked out of Celtic's Lennoxtown media room on Tuesday when the issue was raised and reporters were warned on Thursday not to attempt a similar request of fellow striker Anthony Stokes.
The Irishman, though, responded when asked about Fifa president Sepp Blatter's controversial claim that racism in football does not exist and that any racist problems that emerge during a game could be resolved by a handshake.
Former Sunderland player Stokes was initially reluctant to discuss the matter, saying, "It's nothing to do with me. I will let him speak about that."
However, the Irishman then added: "Every ground you go to, you are going to get a little bit of abuse.
"As for the racist chants, I haven't heard much of that up here.
"But you know there are certain grounds you go to that you are going to get a bit of stick, but that is part and parcel of football.
"Obviously, when it comes down to racism and sectarianism, there is no place for it in football, but you are not going to stop fans giving you a bit here and there when you go to grounds."