Micky Adams focused on football matters at Port Vale
Last updated on .From the section Football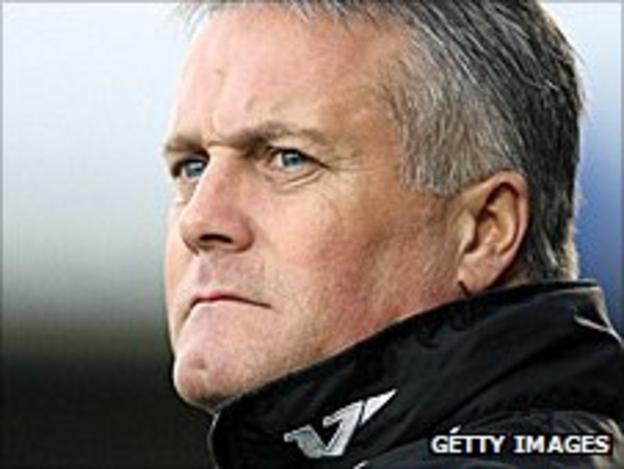 Port Vale manager Micky Adams has insisted that he is purely interested in football, not finance, after a £5m investment in the club stalled.
Vale announced a partnership with American sports construction firm Blue Sky International in September.
But on Tuesday, Vale said contractual issues were holding up the deal.
"I'll let the chairman and chief executive deal with those matters," Vale boss Adams told BBC Radio Stoke. "I'm not a board member any more."
The 50-year-old also served as a director of the club until 5 November.
When he announced his candidacy in June, Adams was unable to add any new players to his squad as there were only three directors in place, while Football League rules dictate that boards must contain at least four directors to be seen as fully-functioning.
"I stated all along that I wanted to come off the board as soon as it was possible," said Adams. "I'm paid to manage the football club."
When the investment deal was announced on 13 September, it was stated that Blue Sky International would initially invest £5m to help with the running of the League Two club.
A further £2.5m would be spent on community projects in the Stoke-on-Trent area within five years, plus another £500,000 on pre-season tours, taking the total investment to approximately £8m.
A number of Vale fans expressed their concerns about the deal at a supporters' club meeting on Wednesday.
However, the former Sheffield United manager said he would "go mad" if he took notice of everything that was said or written about Port Vale in the media or amongst supporters.
"You're talking to somebody who doesn't read the papers or listen to the radio stations," added Adams.
"You're telling me things and hitting me with things that I don't understand and I don't know why you would be talking to me about them.
"I'm paid to manage the football club and I'll do that. I love being at this club, I want Micky Adams to succeed but most of all I want Port Vale to succeed.
"You're talking to me about a supporters' club meeting. What supporters' club meeting?
"It would drive me mad and I don't want to go mad. I want to grow old here, not mad."
Meanwhile Port Vale have terminated the contract of defender Mike Green.
The 22-year-old signed a two-year deal in the summer and has made four appearances for the Valiants.