Terry Butcher says SPL excitement will attract new sponsor
Last updated on .From the section Football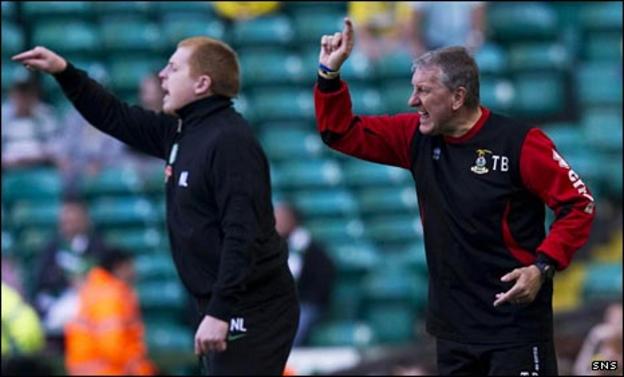 Terry Butcher believes the Scottish Premier League is producing a brand of exciting football that should attract a new sponsor.
The SPL has started seeking a replacement, with Clydesdale Bank ending its five-year association with the competition in 2013.
"It is not good for my heart, or my liver, but we do entertainment," said the Inverness Caley Thistle manager.
"We don't do goalless draws, we do entertainment."
SPL chief executive Neil Doncaster spoke positively this week about the prospects of finding a new sponsor.
But his words came on the day when Dunfermline Athletic announced they were closing a stand to save costs, while St Johnstone are not opposing road plans in Perth that would lead to the demolition of one of their stands.
Hearts have delayed players' wages in order to pay a tax debt, while Rangers are being taken to court over a larger bill that could put the Scottish champions in danger of going into administration.
"There's lots of doom and gloom," said Butcher. "It's up to us who are involved in the game to give Neil Doncaster, and other people as well, ammunition or a great portfolio to go and say this is what we are about.
"In answer to that, the Under-21s went to Holland - Holland, with their total football, have been one of the best countries in the world, let alone Europe, in producing younger players and Scotland went there and won 2-1.
"There are some good young players and now is the best time ever for a young player in Scotland to come through, get into a club, get into the first team, go and play regular football and see what happens.
"Sure, clubs down south, in particular the Championship and League One, do pinch our players, but they can have any other players they would like, yet they do come to Scotland and take our good young players and that's a real good sign that this league is doing very well."
Butcher's side go into Saturday's visit by Celtic having scored nine goals in their last two games, a 3-2 defeat by Motherwell followed by a 6-3 win over Kilmarnock.
"People coming to our matches, in particular, and in general matches in the SPL this year, I've seen a lot of goals, a lot of action and a lot of excitement," he said.
"Everybody knocks Scottish football because it is so easy to do that.
"Look at how many young playes are coming through, the Under-21s are doing well, the national team now have a good strong settled squad.
"So let's not knock it. Let's do everything we can on and off the field to promote the Scottish game, get it going and find new sponsors.
"Sponsors come and go. Sponsors don't stay with you forever, they move about."