Sepp Blatter's most famous gaffes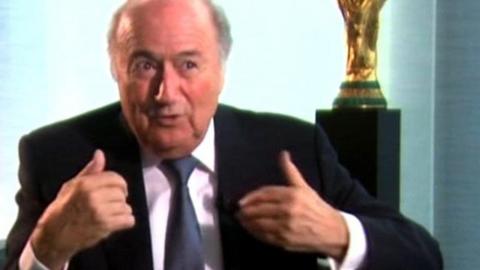 The calls are mounting for Sepp Blatter to resign as Fifa president following his latest controversial comments.
The 75-year-old head of football's world governing body has claimed that football does not have on-field problems with racism.
It is not the first time the Swiss official, who has been in charge of Fifa since 1998, has caused controversy.
Following are a selection of Blatter's other mis-judged quotes.
"I would say they should refrain from any sexual activities." Blatter in 2010 on the fact that homosexuality is illegal in Qatar, posing problems for gay visitors during the 2022 World Cup.
"Let's get women to play in different and more feminine garb than the men, in tighter shorts for example." Blatter on women's football clothing in 2004.
"If this had happened in let's say Latin countries then I think he would have been applauded." Blatter in 2010 on allegations that England captain John Terry had an affair with team-mate Wayne Bridge's ex-girlfriend.
"Crisis? What is a crisis? Football is not in a crisis." Blatter at a news conference in May 2011 amid Fifa's worst corruption scandal.
"There's too much modern slavery, in transferring players or buying players." Blatter suggesting Manchester United should sell Cristiano Ronaldo to Real Madrid in 2008.
"I would say it is a little surprising that the motherland of football has ignored a sacrosanct law or belief that the national team manager should be from the same country as the players. I have never seen Italy, Germany, Brazil or Argentina with a coach from another country." Blatter in 2008 on the appointment of Italy's Fabio Capello as England manager.
"Every game should have a winner. When you play cards or any other game, there's always a winner and a loser. We should have the courage to introduce a final decision in every game of football." Blatter on abolishing draws in 2004.