Off The Bawl - 13 November 2011
Last updated on .From the section Football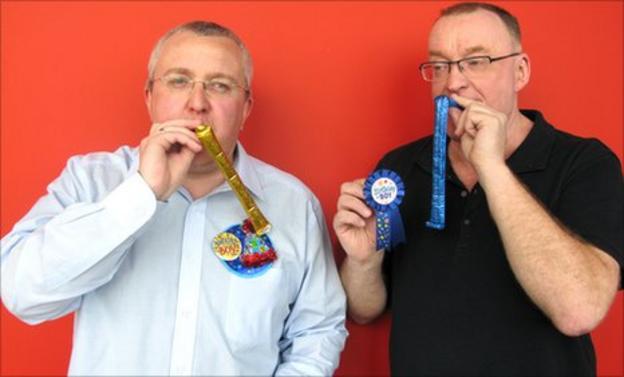 Off The Bawl with Tam Cowan.
Greeeeeetings!!! A bit of a Hibs special in the studio last Saturday as we were joined on Off The Ball by former Easter Road midfielder John Rankin (who still insists on calling that jammy toe-banger a 'squiggler') and contender for the Hibs manager's job, Jimmy Calderwood.
"Jimmy would be the environmentally-friendly choice for the job," said Tim in Edinburgh, "as the fans would be able to re-use our 'Calderwood Must Go!' banners next year."
Meanwhile, George from Helmsdale asked: "If Jimmy got the Hibs job - and considering his long-time partner Jimmy Nicholl is employed by Kilmarnock - would he appoint his old No.2 Schnorbitz the dog?"
As well as challenging listeners to suggest an appropriate song to play at the end of the show for Jimmy C, we also spoke about what Hibernian FC means to you. Our Team of the Week, coincidentally, was The Funeral XI...
Here's another selection of the most petty and ill-informed texts and emails on radio.
WHAT DOES HIBS MEAN TO ME?
Jimmy Stewart from East Kilbride said: "What does Hibs mean to me? Beating a full-strength Real Madrid side (Puskas, et al) 2-0 on the Wednesday and then gubbing Rangers 4-2 at Ibrox on the Saturday. Will we ever see those days again?"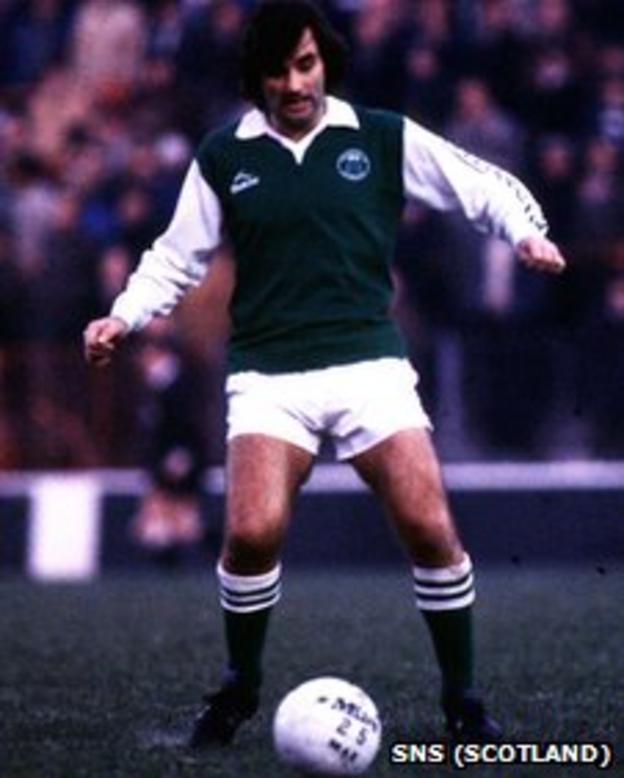 Jim in Netherlee said: "As a Partick Thistle fan, my memory of Hibs was watching George Best playing against us in his debut at Easter Road. A quite bizarre experience."
PJ said: "Hibs for me were quite simply a life-saver. Getting back to the games after my dear wife passed away pulled me back from the brink. God bless the Hibees!"
Ian the Plumber said: "As a Killie fan, Hibs means getting pumped in the CIS Cup final. However, watching the Hibs fans singing Sunshine On Leith - and feeling the hairs on the back of my neck standing up - almost made it worthwhile. Almost!"
Alan in the Highlands said: "I'll tell you what Hibs means to me. Never having a manager who's won the Scottish Cup. Did you know that the one and only time they lifted the trophy the team was actually chosen by committee? And, at the time, did you know that Geronimo was alive and well?!"
A SONG FOR JIMMY?
Anon said: "What about Hey Mr Tangerine Man?"
Joe Mack in Perth said: "I nominate Golden Brown by The Stranglers."
Keith from Greenock said: "Surely anything by Al Jolson would be fine?"
Anon said: "Only one song for the former Aberdeen boss - what about the old Frank Ifield classic I Remember Ewe?"
However, we eventually plumped for the one suggested by Craigie King the Dundee Arab. He said: "As Jimmy has been famously lampooned on Only An Excuse for enjoying a regular game of pocket billiards, what about Great Balls Of Fire?"
THE FUNERAL XI
(aka Wreath Rovers)
1/ Tim Flowers
2/ Ray Funeral Parlour
3/ Kenny Black Armband
4/ Paul Bearer McStay
5/ Marc The Grim Rieper
6/ Thomas Graveson
7/ Dead McMinn
8/ Tony Casketrino
9/ Geoff Hearse
10/ Craig Mackail-Stiff
11/ Crypt Commons
Referee: John "Six-Feet" Underhill
PS. Strangest email of the week? Mary fae Alloa said: "I just want to say that I bumped into Paul Hartley at Morrisons in Alloa on Thursday and what a fine figure of a man he is. Pure sex on legs!"
PPS. When the talk turned to memorable cameo roles (Freddie Ljungberg at Celtic, Claude Anelka at raith Rovers, etc) Alex emailed to say: "Talking of cameo roles, what about the fat, specky burd who presented The Hour with Michelle McManus... what was her name again?"
To join in the fun on this Saturday's show, call 0500 929500, text 80295 or email offtheball@bbc.co.uk
To join in the fun on this Saturday's show, call 0500 929500, text 80295 or email offtheball@bbc.co.uk
Listen to the most recent Off the Ball programmes.
Download the latest Off the Ball podcast.