Swansea's Ashley Williams alarmed by Sepp Blatter comments on racism
Last updated on .From the section Football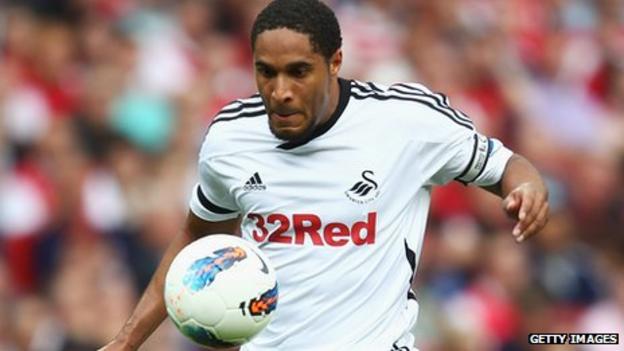 Swansea defender Ashley Williams has described Fifa president Sepp Blatter's comments on racism as "ridiculous".
The Fifa chief faces calls for him to resign and Williams has supported the widespread condemnation of his views.
"I think these comments are ridiculous and I don't know what he was thinking," he said.
"There's uproar today because anyone can clearly see that it's never going to be resolved with a handshake.
"We look to him for leadership and for him to come out with a remark like that I'm not too sure what happens from now on."
Wales defender Williams says he has not encountered any personal racist abuse during his own professional career.
And although he believes great strides have been made to eradicate the problem, he fears the issue has not completely disappeared.
"Over the last 10 years or so people have been working hard to get rid of it and I think to a certain extent it did go," he added.
"We've had a few more issues crop up and obviously it's still about. As long as it's still about we need to work hard to get rid of it."
Following the international break, Williams and Swansea return to Premier League action on Saturday as they welcome champions Manchester United.
Brendan Rodgers' side have yet to lose at the Liberty Stadium this season and are unbeaten in their last three games.
Before the international break the Swans secured a 0-0 away to Liverpool and Williams said: "Getting the draw at Anfield was massive for us.
"I think we needed that result and performance to give us that little more confidence against the big sides.
"I'm excited to play one of the top four at home. The atmosphere has been brilliant so far this season. I can't fault the fans at all.
"I'm sure it will be bouncing again on Saturday and I'd like to see how we're going to do against one of the top boys.
"It's just another game but it is a massive game. The way our boys have been playing I'm sure they'll go out there and do themselves credit again."
The 27-year-old will be facing Manchester United only three years after joining the Swans from Stockport County.
Since then he has established himself as a regular in the Welsh national side and is now playing in the Premier League.
"You still have to pinch yourself now and again and then you realise you've got a job to do," said Williams.
"I'm just trying to enjoy this season. I've enjoyed it so far [and] I think we've done really well."