Gareth Bale puts Wales before playing at 2012 Olympics
Last updated on .From the section Football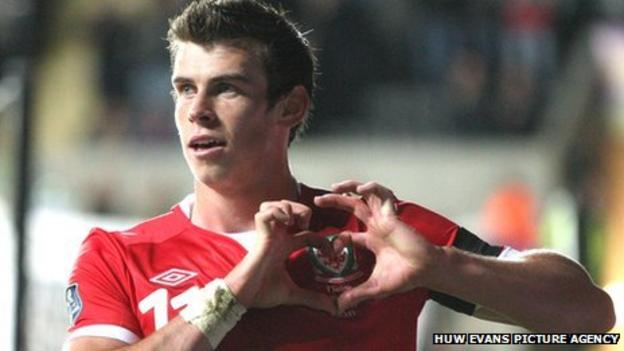 Gareth Bale has said he would put his personal ambitions of playing at the 2012 Olympics aside if it threatened Wales' status in world football.
Bale has been touted as a possible star of the Great Britain Olympic team to compete in London.
But the 22-year-old said: "The most important thing for me is Wales as a country. I'm proud to play for Wales.
"If there was any possibility that Wales would go then obviously I wouldn't play [at the Olympics]."
Bale has often voiced his desire to play at the Olympics and caused a stir in October when we was photographed posing in a GB supporters' shirt.
On current form, few would deprive the Tottenham Hotspur winger a place in the Under-23 side, and he maintained that playing at the Olympics would represent a career highlight.
"It's a once-in-a-lifetime experience in London, in Great Britain, playing in front of the home fans," he said.
"Hopefully everything can get sorted and I can play if selected."
Bale would be going against the wishes of the Football Association of Wales if he played at the Olympics.
The FAW, and its Scottish and Northern Irish counterparts, fear that endorsing the team would prompt other nations to demand that the four home nations should always play as a combined team.
But the FAW say any decision to accept an invitation to play will be left to individual players.
Fifa have given numerous assurances that participating in a GB Olympic team would not endanger their independence.
England have given the team its full backing, and the Football Association will be responsible for selecting the squad.
David Beckham is keen to be selected as one of the three over-aged players in the Under-23 squad, which will be managed by former England left-back Stuart Pearce.
Wales captain Aaron Ramsey has also been photographed posing in a GB supporters' shirt, and has said he has no over regrets over having doing so.