Boss Jim McIntyre backs Dunfermline's North Stand closure
Last updated on .From the section Football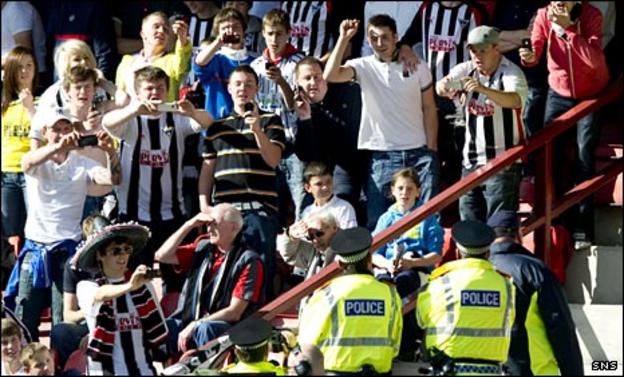 Dunfermline manager Jim McIntyre has backed the club's cost-cutting decision to close one side of East End Park.
The Pars board announced this week they were closing the North Stand - the enclosure across from the main stand.
"I think it's absolutely the right decision," McIntyre said of a decision that will save £20,000 per year on police and stewarding costs.
"For the amount of people that sit in there, I think it's madness to have that open for the amount it costs."
Chairman John Yorkston hopes to be able to reopen the stand should attendances rise, but he also warned of further money-saving exercises to come.
Although the stand features the most vociferous section of fans - and the club has recently made appeals for supporters there to remain seated during games - McIntyre is confident the atmosphere will not be adversely affected.
"The fans will make noise wherever they sit," he said
"I know there is a lot of tradition of people sitting there for a long time, but they have got to think of the bigger picture, which is the club going forward with the way finances are.
"I think, if they are true fans, they will understand the situation that every club is facing in Scottish football.
"It's hard, hard work trying to get money through the door and you have got to look to cut costs whichever way you can."