Man City out to create future stars at their Etihad Campus
By Richard Conway
BBC Sport News
Last updated on .From the section Football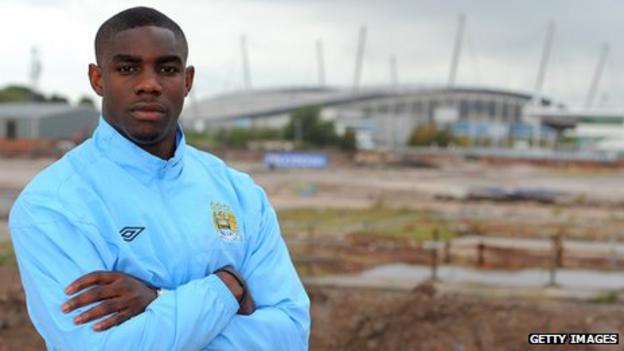 When Barcelona defeated Manchester United in the Champions League final in May 2011, they had seven Spaniards in their starting XI, with four more on the bench and a Spanish manager. In all, eight players developed from their own academy, La Masia, played in the match.
Now, Manchester City are hoping to replicate the European champions by using home-grown players to help win the Champions League and dominate European football.
Since that final, Barcelona have added to their ranks by re-signing £24m Cesc Fabregas from Arsenal. City, meanwhile, have nine Englishmen in their squad, although only Micah Richards and Nedum Onuoha have progressed from the youth team.
But the club are digging for victory as work continues to level and decontaminate land on the 80-acre campus that will house their new academy.
The plan to house all of Manchester City's training, playing and administration facilities on one campus was launched in September when a request for planning permission was submitted to Manchester City Council.
Now, as the complex waits to be given the final go-ahead, work is under way to remove over 1.5m tonnes in contaminated land from the site - a legacy from Manchester's industrial past.
The Etihad Campus will cater for up to 400 young players when completed, 40 of whom will be accommodated and schooled on-site. It will also house a 7,000-seater stadium so youth teams can gain valuable experience of playing in front of large crowds.
The aim in east Manchester is that turning the industrial wasteland into a state-of-the-art training campus will help the club to one day replicate Barcelona.
Patrick Vieira, now retired from his playing days with France, Arsenal, Inter Milan and City themselves, is marshalling City's young prospects into the next generation of heroes. He agrees the Catalan club should serve as an "inspiration".
He said: "We don't say we should play like Barcelona but they are a fantastic example to follow. We have to be inspired by the work they've done.
"The way they won the Champions League final [with players developed in their academy] is a fantastic example to follow - but then they've been working like that for 30 years."
City's chief football operations officer Brian Marwood has been instrumental in getting the campus project off the ground, along with former chief executive Garry Cook.
He agrees that Spain, and Barcelona in particular, set the standard when the club researched what their own offering should look like.
"When you look at the Spanish teams, at all ages, they are clearly doing things right," said Marwood.
"It was clearly right that we should go and look at Barcelona. They were brilliant as a club. They weren't defensive in any way. They allowed us to come in and take a look at the philosophy and culture they've developed over a number of years there."
Marwood, who had a long career in the top tier of English football with Arsenal and both Sheffield clubs, is guided by personal experience when it comes to dealing with young players who see their dreams of playing at a professional level disappear.
He said: "My own son was in the [football development] system and came out at the age of 19 very disappointed and disillusioned. He fell out of love with football.
"Part of the ethos we're trying to create here is that, if the young players don't become footballers, we can help create another career for them.
"We're here to develop football players but, if we develop the right sort of people - if they have an involvement with this football club from the age of eight or nine, there's no reason why we can't be developing the next groundsman, or commercial director, or marketing director or the next chief football operations officer."
But Marwood has words of warning for players who do end up making it to the professional ranks with City.
With Carlos Tevez in self-imposed exile in Buenos Aires, it's clear City are determined to impose a philosophy of professionalism.
While not commenting directly on Tevez, Marwood is of the belief that the academy can help change the public's negative perception of football players.
He added: "It disappoints me greatly when you see the attitude and behaviour of certain players. I think what we're trying to do here is create a better footballer but also a better person."
Sheikh Mansour, City's UAE-based billionaire owner, is, according to Marwood, "in touch daily" through his advisors to learn and have his say on the campus project and other business matters.
Mansour must be assured that, with Marwood and Vieira at the helm, the club has in place two professionals who understand the high standards and winning philosophy he reportedly demands.
With the advent of Uefa's financial fair play rules, which seek to neuter the kind of limitless spending power that City have enjoyed in recent years, the academy has now adopted a new level of importance.
"With financial fair play, it's not going to be so easy to go around and buy young players for £30m, £40m or £50m," said Vieira. "This academy is our chance to develop those players for ourselves."