Gus Poyet backs Luis Suarez in race row, to surprise of Sir Alex Ferguson
Last updated on .From the section Football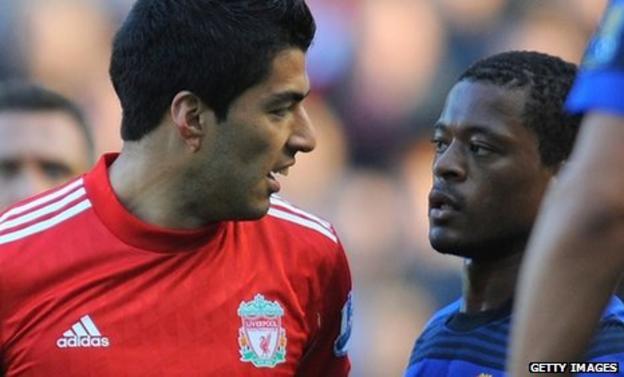 Brighton manager Gus Poyet has offered to testify in court to defend Liverpool striker Luis Suarez.
But Poyet told talkSPORT: "Luis is not a racist. We use different words and it is a different situation."
Poyet's remarks have been described as "inappropriate" by United manager Sir Alex Ferguson.
The 69-year-old would not be drawn on saying anything about the Evra situation, under instructions from the FA, but he was upset with Poyet's comments.
"I'm surprised by Gus Poyet's remarks," Ferguson said. "It's inappropriate at a time when people throughout the world are condemning racism.
"I can understand why he wants to support someone from his country but I think he should think more about it. His criticism of Evra is a bit silly."
Poyet moved to England with Chelsea in 1997 and had a spell with Tottenham before moving into coaching at Swindon and then Leeds.
He believes fellow Uruguayan Suarez needs time to adapt to the cultural differences of playing in the Premier League and feels the English game does not do enough to help foreign players.
He said: "You cannot accuse people without a proper investigation, especially when it's a foreigner who is coming from a different place where we treat people of colour in a different way.
"So it was very easy to accuse someone. Luis Suarez is 100% not a racist.
"Me, I'm not racist. I've lived with people of different colours in different countries and I adapted to every single situation. Suarez needs to adapt to England, and England needs to adapt to the players that come here.
"England needs to understand how the rest of the world lives. If we have that understanding, easy."
Evra made his claims immediately after the 1-1 draw on 15 October and was quoted as telling French TV station Canal Plus: "There are cameras, you can see [Suarez] say a certain word to me at least 10 times."
But Poyet believes Suarez has no case to answer.
"You are not racist when you go against one, but you are if you go against the whole world of different colour and nationalities. That is being racist, not saying one word in one moment," he added.
"If that's what you want, fair enough. I take it and accept it. I had to behave in a different way because I've been in England for 13 years. So I know what you are like and I adapt to that. Give Suarez another six months and I think he'll be how you want him to be."