Fifa sponsors shy away from criticising Sepp Blatter
Last updated on .From the section Football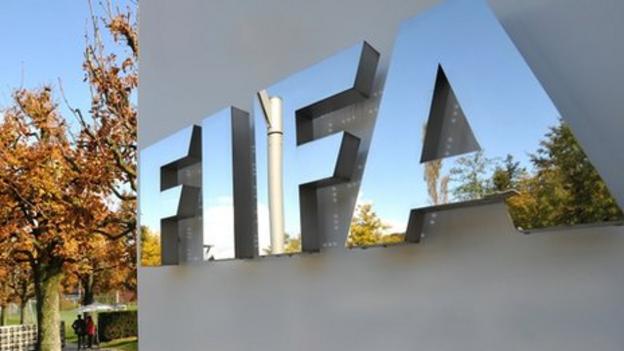 Fifa's sponsors and partners have shied away from criticising Sepp Blatter over his view that racial discrimination could be settled with a handshake.
The BBC attempted to contact 12 Fifa sponsors and the eight companies that responded were only willing to generally "condemn" racism.
But no company would specifically criticise the Fifa president.
Emirates Airlines and Castrol said they were "monitoring" events but one sponsor was even unaware of the story.
On Friday the 75-year-old Blatter .
Since Tuesday the racism row has been played out across television screens, newspapers' front and back pages as well as over Twitter - notably with Manchester United defender Rio Ferdinand exchanging tweets with Blatter.
But amid the furore the dilemma for sponsors is that football provides untold advertising opportunities.
"I think the loss of one or two sponsors would not be a major problem for Fifa as there are often other companies out there who would eagerly step-in to replace them," Professor Simon Chadwick of Coventry University Business School told BBC Sport.
"I think effective action would entail all of the sponsors working together in order to press for change from within," added Chadwick, who estimates current sponsorship deals could be worth as much as £1.5bn to Fifa up to 2014.
And campaigning group ChangeFifa, which has called for greater transparency within Fifa, argued that the world governing body was able to "survive" because of sponsors' unwillingness to work together.
"When you are relying on Fifa's major sponsors to save football it is clear something has gone badly wrong," ChangeFifa told BBC Sport.
The BBC asked Fifa's sponsor or partner companies whether their brand was being damaged by its association with the world governing body and if they would review sponsorship deals with the organisation.
"We are not reconsidering our sponsorship," said drinks company Coca-Cola, while finance firm Liberty Seguros added that the 2014 World Cup was a "unique opportunity for brand placement, but we don't notice any reasons for a contract review."
Sportswear firm adidas said it "enjoyed a long-term partnership with Fifa as a sponsor and supplier around their events at all levels of the game and we have agreed to continue this partnership".
Blatter's comments about racism, made earlier in the week, have caused consternation in England, but the sponsors' reaction reinforces the view that the row is unlikely to affect Fifa's coffers.
The 75-year-old Swiss was recently voted in for a fourth term in office, receiving 186 of the 203 votes cast to remain in charge until 2015. He was the only candidate in the June election.
No Football Association or Federation has called for Blatter's resignation over the row, although Professional Footballers' Association chief Gordon Taylor has said the Fifa president should step down.