Portsmouth unfazed by Snoras Bank plight
Last updated on .From the section Football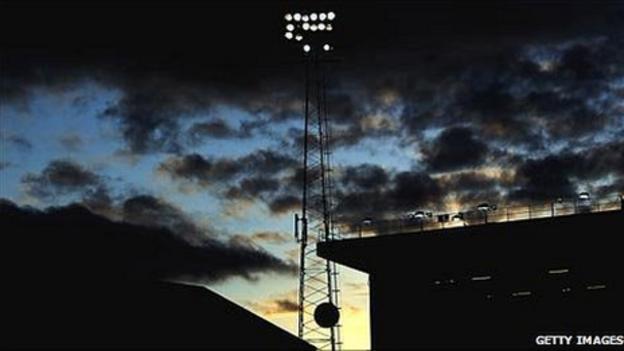 Portsmouth say the plight of Snoras Bank will have no direct impact on their day-to-day operations, which "carry on as normal".
The bank, which is part owned by one of Pompey's main backers Vladimir Antonov, has gone into temporary administration.
Antonov owns 68% of Bankas Snoras and an administrator has been appointed to assess its financial position.
The Russian businessman is the backer of Convers Sports Initiatives (CSI) which owns Portsmouth Football Club.
On Thursday CSI released a statement saying as far as they were concerned, it was "business as usual".
"In the light of the recent events at Snoras Bank, Convers Sports Initiatives (CSI) would like to reassure its companies, staff, and the fans of its teams and events, that it remains very much business as usual," said the statement.
"We are operationally unaffected by Snoras Bank entering temporary administration.
"CSI has been solely financed through the private wealth of its owners. Snoras Bank has never provided funding for the purchase of a CSI organisation, nor has it lent any money to these businesses after they have been acquired."
It is believed the administrator will look at restructuring the business, amid reports that assets totalling around £247m may be unaccounted for.
Portsmouth added in a statement on Friday that they were unaffected by the situation at Snoras Bank.
"Portsmouth Football Club are aware of the recent news reports in connection with Snoras Bank," said the statement.
"The bank is part of the wider share holdings of Vladimir Antonov, but is in a different group of companies that operates entirely separately from our parent company, CSI, and the club.
"As such, the circumstances of Snoras Bank have no direct impact on our day-to-day operations, which carry on as normal."
In February 2010, Portsmouth became the first Premier League club to be placed into administration and CSI completed their takeover of the Championship-side in June 2011.
And leading football finance expert Guy Thomas says the news could have a negative effect at Fratton Park until the situation is resolved.
"On the face of it, this is not directly bad news for Pompey or even its immediate owner CSI," Thomas of Taylor Walton LLP, told BBC Sport.
"But whilst any uncertainty hangs over the future of this Lithuanian Bank - and by implication Antonov - then it will hardly be an atmosphere in which Antonov will be keen to either focus on the club or push through any plans - via CSI - to improve the club's future outlook."