FC Sion Europa League ban upheld in Fifa Swiss court appeal
Last updated on .From the section Football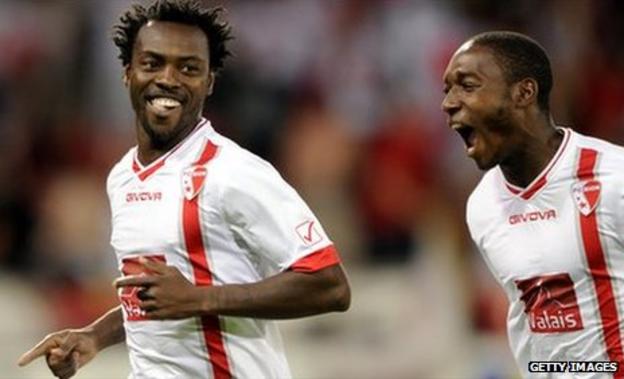 FC Sion's Europa League ban has been upheld by a court in Switzerland.
Two courts had ruled Sion could register six players despite a Uefa-imposed transfer ban and should be reinstated in the Europa League.
But world governing body Fifa appealed successfully to the higher court.
Sion's hopes of a Europa League return rest on a 24 November hearing at the Court of Arbitration for Sport (Cas).
The six players joined Sion in the close season when the club was serving a ban - lasting two transfer windows - for breaching rules in the signing of Egyptian goalkeeper Essam El Hadary in 2008.
The players won the right to play in August after taking their case to a court in Martigny, Switzerland, and the club won an injunction ordering their reinstatement at a further hearing at one of the country's civil courts, this time in Vaud.
As a result, the Swiss Football League (SFL) backed down from enforcing the Fifa ban in domestic competitions.
But Fifa announced in a statement that their appeal against the Martigny ruling had been successful.
"The Valais cantonal court in Sion overturned the decision of the civil court of Martigny and St Maurice of 3 August in its entirety and fully upheld the appeal submitted by Fifa and the Swiss Football League," said the statement.
Uefa insisted that Cas was the only valid authority with jurisdiction over the matter, after Sion claimed Uefa denied the club access to an "independent and impartial judge" and breached the players' working rights under the European Union-Swiss treaty.
Sion are being helped in their case against Uefa by Jean-Louis Dupont, the lawyer who won the landmark Jean-Marc Bosman ruling in 1995.
If their appeal to Cas is successful, Uefa would have to find a way of reinstating Sion in the Europa League, which is currently two-thirds of the way through the group stages, with knockout rounds to follow next year.