Republic of Ireland to open World Cup campaign in Kazakhstan
Last updated on .From the section Football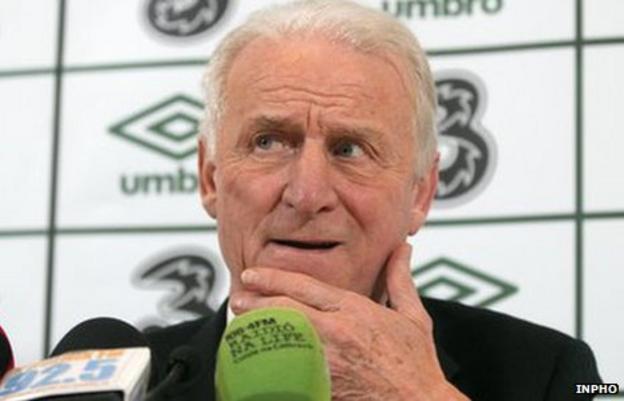 The Republic of Ireland will begin and end their qualifying campaign for the 2014 World Cup against Kazakhstan.
The Irish will open their Group C campaign next year with an away game in Kazakhstan on 7 September before taking on Germany in Dublin on 12 October.
An away game in the Faroe Islands takes place on 16 October before the campaign resumes with the visit to Sweden on 22 March 2013.
The Republic also face Austria home and away in the group.
The home game against Austria takes place on 26 March 2013 with the away clash the following 10 September.
The 10-game campaign will conclude with an away game in Germany on 11 October and the concluding home match against Kazakhstan four days later.
Manager Giovanni Trapattoni, who this week guided his side to the Euro 2012 finals after a play-off victory over Estonia, said his team had landed a "good fixture schedule".
Trapattoni has yet to sign a new contract for the 2014 World Cup campaign but this is expected to be a formality.
"We finish the campaign at home and start with a single away match against Kazakhstan, which was important given the long distances involved," said Trapattoni.
"I am also happy with the balance obtained in the double-headers and the timing of what we would expect to be some of the key matches in the group."
Republic of Ireland World Cup Group C Fixtures
7 September 2012: Kazakhstan v Republic of Ireland
12 October: Republic of Ireland v Germany
16 October: Faroe Islands v Republic of Ireland
22 March 2013: Sweden v Republic of Ireland
26 March: Republic of Ireland v Austria
7 June: Republic of Ireland v Faroe Islands
6 September: Republic of Ireland v Sweden
10 September: Austria v Republic of Ireland
11 October: Germany v Republic of Ireland
15 October: Republic of Ireland v Kazakhstan