Director says Hearts will be 'very different' next season
Last updated on .From the section Football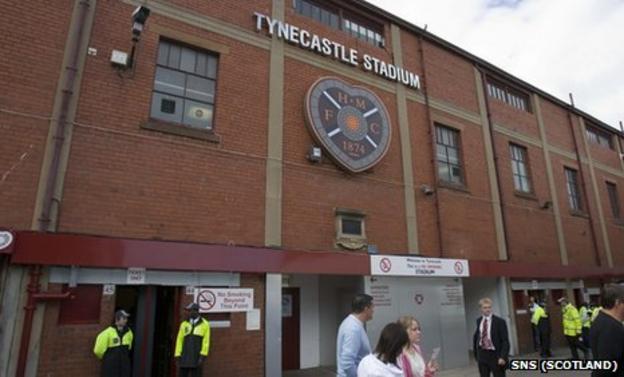 Hearts director Sergejus Fedotovas has warned fans the club will be "very different" next season.
But Fedotovas says the existing board's strategy will be to sell senior players in the coming months.
"We have several players that have reached the peak of their career at Hearts and are ready for a move," Fedotovis told the club's website.
"Our priority remains on escalating the rise of young players in our squad.
"We have some very talented young players and we are now entering a transformational time for the club on the field.
"Our strategy involves bringing through the best young players while selling or releasing some of the senior or fringe players.
"The board's view is that Hearts not only should be a very different team next season and thereafter, but it will be a very different team."
The club has been dogged by problems paying players' wages in recent weeks, but Fedotovas says Romanov remains committed to Hearts.
"Despite a sporadic delay at times, we have always paid our players and fully intend to continue to do so," he added.
"Mr Romanov's commitment to Hearts is unquestionable with his £60m plus investment in seven years being more than any other individual has put into Scottish football as a whole.
"Now, though, the board is willing to talk about how to really develop the potential of a club that enjoys the third biggest support in Scotland and one of the biggest in the UK."
And while Romanov is open to the prospect of selling the club, Fedotovas says there is no fixed timescale for a transfer of ownership.
"If it is clear that any individual or organisation has a valid proposal which can seriously develop the club and allow it to prosper in years to come then we will speak to them," he added.
"Mr Romanov has made his position clear and I can reinforce that while he is justifiably disillusioned by many aspects of the sport, he has not lost his feelings towards Hearts."