David Beckham 'great' for Major League Soccer
Last updated on .From the section Football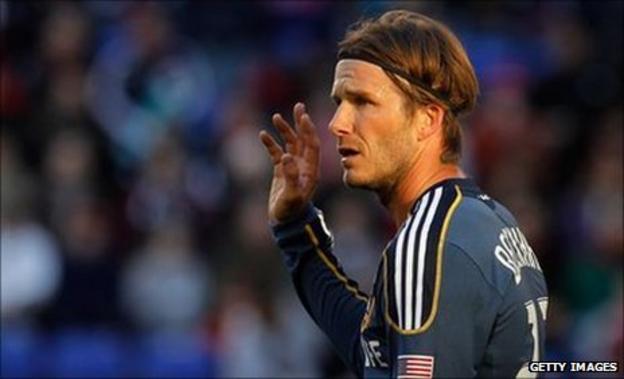 The boss of Major League Soccer says David Beckham has made a "great" contribution to the development of football in the United States.
Don Garber praised Beckham, 36, as the ex-England midfielder is set to play his final match in the US on Sunday.
Garber said at times he regretted the hype of Beckham's arrival at LA Galaxy from Real Madrid in 2006, but not the excitement it generated.
"He's been great for our league and for our game," the MLS commissioner said.
Beckham has made 26 appearances for Galaxy this season, a campaign that has seen a 7% increase in attendances across the MLS.
In addition, MLS will be broadcast on the high-profile NBC Sports television network for the first time next season, while Galaxy have just secured a $55m deal with Time Warner Cable Sports.
"I had the expectation that MLS would become more popular, that we'd see improved ratings and a different attitude," said Garber.
"While at times I regret how hyped we were when Freddy Adu came into the league [in 2004] or when David came in, I don't regret the excitement that David created by coming in.
"I find it amusing that when David came into the league five years ago, many sports media pundits were saying how much he's over the hill, you don't hear that any more, and this is five years later."
Beckham has had two loan spells at AC Milan since joining Galaxy and is likely to play his final game for the club in Sunday's MLS Cup final, with a move to Paris St Germain a possibility.
"We underestimated the challenge of him playing for England and we didn't expect his desire to go out on loan," added Garber.
"I underestimated the power of his celebrity by a long shot."
The former Manchester United man moved to LA from Real following his resignation as England captain after the 2006 World Cup.
Initially overlooked during his time in the United States by then England manager Steve McClaren, Beckham was recalled for the culmination of the ultimately unsuccessful Euro 2008 qualifying campaign and was in contention for a place in Fabio Capello's 2010 World Cup squad before being hit by an Achilles tendon injury.
With Beckham in the side, Galaxy reached the final of the MLS play-offs in 2009, the semi-finals in 2010 and meet Houston Dynamo in this year's final.
"This guy wants to win, and he'll do anything," added Garber.
"I totally underestimated how hardworking and tough he is. He will play through injury and fatigue.
"That warrior-like mentality was like nobody expected in MLS."