Malky Mackay cools Cardiff City promotion expectations
Last updated on .From the section Football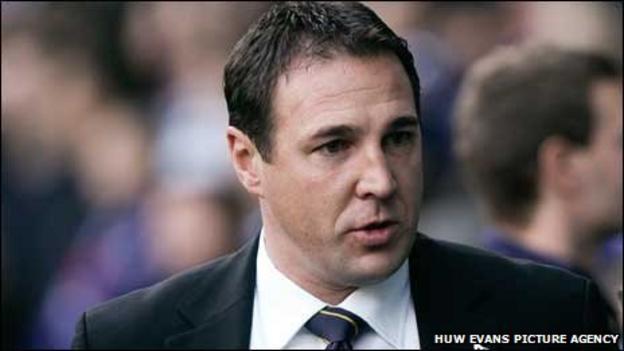 Malky Mackay has moved to calm the promotion expectations of Cardiff City fans as the Bluebirds maintained their top-two push with victory at Reading.
Peter Whittingham inspired Cardiff to their third successive Championship win with the opener against Reading before he set up Mark Hudson's clincher.
The Bluebirds are fourth in the table and four points adrift of West Ham in the second automatic promotion place.
But manager Mackay said: "It is really early days as we're before Christmas."
Cardiff suffered three successive promotion near misses in the final three seasons of Dave Jones' managerial tenure.
The nearest the Welsh club came to Premier League promotion was a 2010 Championship play-off final defeat to Blackpool. A play-off semi-final defeat to Reading followed last season.
Cardiff, however, lost 12 players following Jones' departure in the summer, prompting Bluebirds fans to lower their pre-season expectations while new boss Mackay completed his rebuilding project.
But Mackay's hard-working men, who soon face Blackburn in a Carling Cup quarter-final, are making an unexpected promotion push as Cardiff have lost just three games this season.
And after defeating Reading, the Cardiff manager believes their defensive resilience and clinical finishing at the Madejski Stadium is their new benchmark.
"Everyone loves to have consistency," said Mackay, whose team are unbeaten in five games.
"We have a belief in our ability and our plan.
"It is early days, really early days. There's a lot of football still to be played and we have to go out and make sure we compete to that standard as many times as we can this season."
Cardiff bid to extend their winning run to four games, a feat the Bluebirds last achieved in October 2010, at struggling Coventry City on Tuesday.
Cardiff's three-match winning streak - beating Derby, Crystal Palace and now Reading - is in a normally troublesome month as the club had won just four times in their previous five Novembers.
"It has been a great run and we've been playing teams around and above us," said midfielder Aron Gunnarsson.
"It was important to get those games behind us and get the three points.
"We have to keep that going now. It is a long season and if we go on another run then who knows what might happen?"