Inverness boss Terry Butcher furious over red card
Last updated on .From the section Football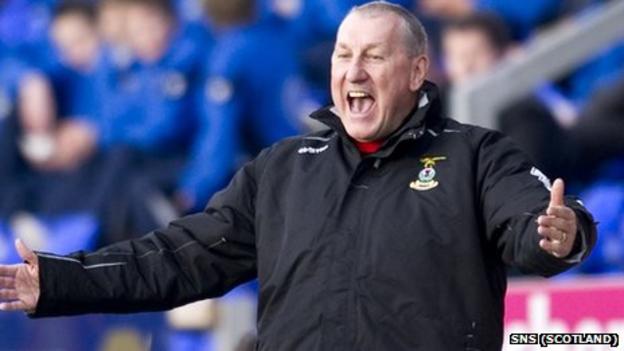 Inverness manager Terry Butcher criticised referee Steve O'Reilly and the Scottish FA following the 2-0 defeat by Celtic.
Midfielder Greg Tansey was sent off following an aerial challenge on Georgios Samaras - a decision that infuriated Butcher.
"If anything it is assault by fingernail - and the player has gone down as if he's been scratched by a jaguar," he said.
"There's no way it's a red card."
The game was goalless when the referee dismissed Tansey in the 36th minute and Butcher expressed frustration at the decision and the system for reviewing controversial red cards.
"I'm not happy. The usual happens, Inverness get a man sent off: we had a man sent off against Rangers, against Celtic and against Motherwell and end up losing the game," he said.
"It's the same old story. It happens because referees are rushed into making decisions. If they just step back and look at it then they'd realise it's not a red card.
"I'm bitterly disappointed and I'll tell you what happens now. We'll have a look at the DVD and probably say we're going to appeal.
"I, or someone who represent the club, will go down to Glasgow. We'll do all the necessary work and ensure we've got the paperwok in place by Tuesday afternoon.
"The referee sees it; he then replies by Wednesday afternoon. Then I'll sit down in front of the compliance officer and then in front of the SFA panel; which is three men.
"All of whom have never played football. And if the referee doesn't change his mind then there's no point in me going down.
"So, I'll waste £1,000 of the club's money plus train fare and everything else and it'll be a complete waste of time."
Referees went on strike last season over what they believed was unfair criticism but Butcher said he was frustrated with the decisions going against his club.
He added: "I feel like saying: 'okay SPL, you go and sort out the referees and let's get a bit of consistency'.
"Fifteen games played this season and not one penalty."