Tottenham assistant confident they can keep Gareth Bale
Last updated on .From the section Football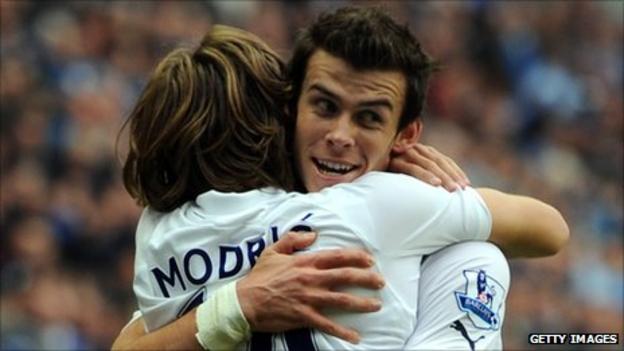 Tottenham Hotspur assistant manager Joe Jordan says the club are confident they will not sell Wales winger Gareth Bale despite interest from Barcelona.
"I believe we can keep Bale," Harry Redknapp's assistant said.
"It's great when the best team in the world is talking about one of our players. I don't see why it would cause us a problem," he added.
"The stance with [Luka] Modric was that we would not be forced into selling him and that was proved."
Jordan believes Spurs' refusal to sell Modric in the summer despite protracted interest from Chelsea indicates their determination to keep players.
"We've shown that we can retain players and bring players in, both of which are important," he said.
And he added that the Champions League winners' interest in the 22-year-old Bale was not necessarily a bad thing.
However, Jordan, who has been in charge of the first team during Harry Redknapp's recovery from a cardiac procedure, admitted that it had been hard for Modric to remain focused when he was the subject of transfer speculation.
He said: "It was something that even for Luka went on for too long. It just seemed to continue and continue and it had a draining effect on the player.
"I'm glad it's over with and you can see how Luka is performing now. It is a bonus for us all."
Barcelona have suggested they would not be prepared to break the bank for Bale.
Jordan continued: "Everyone's got a valuation, but it's important that your players are spoken about.
"To mention figures? I wouldn't start mentioning figures."