Sir Geoff Hurst backs Harry Redknapp to become next England manager
Last updated on .From the section Football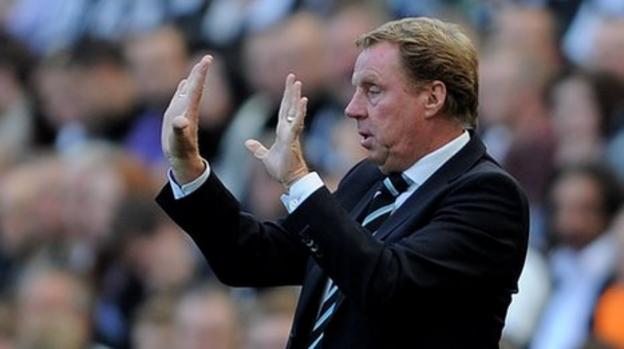 Sir Geoff Hurst believes Tottenham Hotspur boss Harry Redknapp should be the next manager of England.
And Hurst also feels that Manchester United defender Phil Jones will soon be the captain of the national side.
"Having had two foreign coaches who haven't achieved much, I'd give someone from this country a go," said Hurst.
"Harry Redknapp would be my choice. He can manage players and he is popular with the press, which helps take the pressure off."
Hurst thinks Jones will soon take the England captaincy but wants to see the Manchester United man used in defence rather than the midfield role he has filled recently for Fabio Capello's side.
"I want to see Phil Jones playing in his best position, which is at the back," he said. "But it will give him great experience to play in midfield for England, and that shows the confidence they have in him.
"We need to look to replace the two central defenders [John Terry and Rio Ferdinand] soon, given their age, and I see him as a captain of his country in probably the not-too distant future."
Here is more of Sir Geoff, speaking on 5 live's Sportsweek programme:
On the current England team: "It's been a criticism of mine for a long time that we're not producing enough quality players for the national team, but the last couple of games have seen the emergence of a few players who can go to the European Championships next summer. Phil Jones, Jack Rodwell and Kyle Walker should all be in contention after how they have performed recently."
On racism in football: "Clyde Best in particular got a lot of stick and that impaired his ability to be aggressive. He was a big, aggressive player, and sometimes his willingness to use that was affected by a fear of not wanting to upset people. There was a lot more racism from the crowd in those days, especially away from home, and it made me very sad."
On winning the World Cup: "You realise many, many years later how big and how significant it is to be involved in a successful national side whether it's football, cricket or whatever. It is a national event and it's a great fillip for the country. It was an honour to be part of that and be involved with some great team-mates, who I still see a lot of today. "
On his time in football management: "I don't have any regrets. It was a very good experience and I'm glad I tried it. In those days you could earn just as much money outside the game as you could in it, without all the hassle. I think within my first year out of the game I had earned what I earned in a year as manager of Chelsea."
On modern players' wages: "The players get criticised for what they earn but the Premier League is a huge business with a multi-billion pound turnover business. The people running it are on good salaries so it's a bit unfair to criticise the players, who are a key part of it. The Premier League have probably got a billion quid in the bank, and they're very successful."