Joe Allen frustrated by 'valiant' Swansea City defeats
Last updated on .From the section Football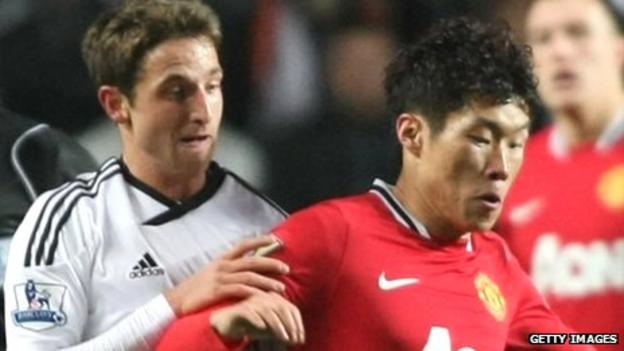 Joe Allen says Swansea City's first season in the Premier League must not become defined by brave defeats.
The Swans impressed against champions Manchester United on Saturday, but Angel Rangel's defensive mistake meant their efforts were in vain.
"We don't want losing valiantly to be the story of our season," said Allen.
"But we're close. I think that's the biggest thing we can take for the game and it's good to know that Manchester United have been in a tough game."
Swansea have now lost to each of last season's top-four clubs, the 1-0 home loss to United following away defeats at Manchester City, Arsenal and Chelsea.
Despite losing heavily to City and Chelsea, Swansea competed well against Arsenal but another defensive error proved decisive in the 0-1 defeat at the Emirates Stadium.
Confidence has grown since a goalless draw at Liverpool before the international break, with the performance all the more remarkable after emerging with 55% of the possession.
The now trademark passing principles were again evident as Swansea held their own against United, prompting Nathan Dyer to insist they are no impostors on the Premier League stage.
"We deserve to play in this league," said Dyer, who gave United left-back Patrice Evra an uncomfortable evening at the Liberty Stadium.
"We deserve to play against the great players and we've shown we can battle and challenge them."
Allen's hopes of starting against the club he has supported since childhood were thwarted by a calf niggle.
But the 21-year-old Wales midfielder was introduced for the second half, giving him half an hour to test himself against a United legend.
"Ryan Giggs has been a hero of mine since I was a little boy," said the blossoming Allen.
"To get that chance to line up against him is something I'll always remember."
The first 12 Premier League games have been a steep learning curve for all the Swansea players, added Allen, and United's ruthlessness in pouncing on a defensive mistake was another harsh lesson.
"The level has increased dramatically and we know that we can be punished if we lose the ball," he said.
"Unfortunately that's where the goal came from. Teams like Manchester United are capable of capitalising on that and it happens in football.
"The way we play is brave at times - we try to keep the ball in dangerous positions and the down side now and again is that we'll concede goals as a result."