Harry Redknapp to return to Tottenham dugout after heart surgery
Last updated on .From the section Football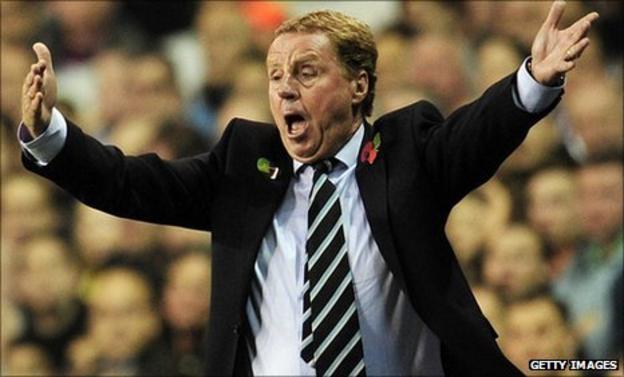 Tottenham manager Harry Redknapp will be back in the dugout for Monday's Premier League game with Aston Villa.
"I feel fine, I've got more energy than I had before. I'll be on the bench for sure," he said.
"Sometimes you don't realise there's something wrong. I feel better than I did three weeks ago."
Spurs will climb to third in the Premier League if they can beat Villa.
"It'll be a tough game. There are six teams at the top pushing for the top four," added Redknapp.
"There's us, Liverpool, Arsenal and Chelsea - it looks like it could be any one from four.
"And Aston Villa certainly look like they will be the one pushing to get into that top group."
Redknapp admitted he had struggled to watch Tottenham's 3-1 victory over Fulham at Craven Cottage from his home.
"I felt rough after the game. It actually knocked me for six," he said.
"I'd rather be watching it from the bench than on TV."
Redknapp has been backed by former West Ham team-mate Sir Geoff Hurst to become the next England manager but insisted he will not be distracted by speculation linking him to the national team.
"It was nice of Geoff to say that. I appreciate him saying that but I'm just focusing on getting back and getting Tottenham as high as possible," he said.
"I'm focused on trying to get back in the Champions League because we had such a great time in that competition."