Pat Nevin says Andre Villas-Boas should not be sacked by Chelsea
By Phil McNulty
Chief football writer
Last updated on .From the section Football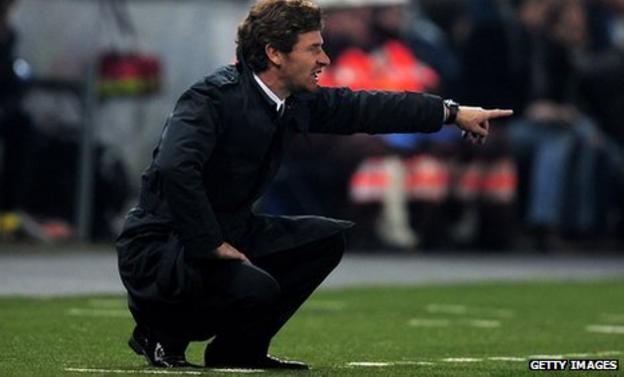 Former Chelsea and Scotland star Pat Nevin believes manager Andre Villas-Boas should be given time to build his own team at Stamford Bridge.
Some reports have suggested there is tension between Villas-Boas and club owner Roman Abramovich.
But Nevin said: "If it was me I would give the manager a free hand and three or four years to develop things."
Club officials strongly denied there was any tension between Villas-Boas and Abramovich, describing the reports as "total nonsense".
But Chelsea are now 12 points behind league leaders Manchester City, while former Chelsea boss Guus Hiddink has been linked with a return to Stamford Bridge in some capacity after leaving his post as Turkey coach.
Nevin played for Chelsea from 1983 to 1988 before spending five years with Everton and he told BBC Sport the choice lies with Abramovich.
He said: "You have Mr Abramovich's money and you accept his methods - or maybe you have another way and you don't have the money.
"Chelsea don't work to what some may regard as old-fashioned rules employed by clubs like Liverpool and Manchester United in days gone by, where managers are given time to build a dynasty.
"Other clubs just choose a different model, which is the prerogative of the man in charge. Real Madrid, for instance, have a track record of changing managers every couple of seasons and have enjoyed a lot of success.
"What I will say is Chelsea have chosen some pretty good managers in recent years and they've had success as well."
Nevin also believes that getting rid of Villas-Boas could be seen as an admission of failure.
He added: "If Chelsea do not wait until the end of the season to make a decision on Villas-Boas, that would be regarded as an admission they made a bad choice to make him manager.
"Also you would never find out if it was going to work.
"My idea would be to appoint a manager and let him develop something you can turn into a dynasty. If you trust the manager you stick by him.
"But I also totally accept there is another way and I am not sure if there is a right or wrong way."