Inverness win appeal against Greg Tansey red card
Last updated on .From the section Football
Inverness have won their appeal against Greg Tansey's red card in Saturday's .
The midfielder was dismissed following an aerial challenge with Georgios Samaras and the Scottish FA's Fast Track Tribunal reassessed the incident.
Referee Stephen O'Reilly admitted he had made a mistake. The offence has been downgraded to a 'careless foul'.
Tansey will now be available for Saturday's Scottish Premier League match with Hearts at Tynecastle.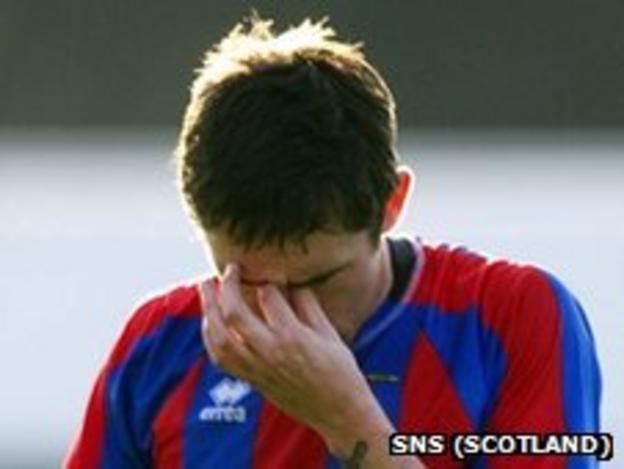 "I'm pleased," said Inverness manager Terry Butcher. "Common sense has prevailed and I'd like to thank the referee as well and the panel and Vincent Lunny, the compliance officer.
"We need to work as clubs and players with referees as well. My comments have certainly stirred things up but as far as I'm concerned it's done and dusted now, we move on."
The hand of Tansey came into collision with Samaras's head in the 37th minute of the match and a red card was promptly shown to the Inverness man.
The Highlanders held their visitors at 0-0 until the 61st minute when Anthony Stokes broke the deadlock and the striker added a second 11 minutes later to complete a 2-0 Celtic win.
Butcher was angry in the immediate aftermath of the match, criticising the red card decision and the upcoming process of appeal.
"Nothing can be done in terms of the process this year but Vincent wants everybody happy with the system," added Butcher after the appeal at Hampden.
"I think we all have to work towards that and I think we will do because we all want a great product.
"Referees have very tough jobs to do. They've got to make split-second decisions.
"We want to work with referees, they're not the enemy. No-one's the enemy as far as we're concerned. We want everybody to be together on this and make football better."