Stoke manager Tony Pulis considers appealing against FA fine
Last updated on .From the section Football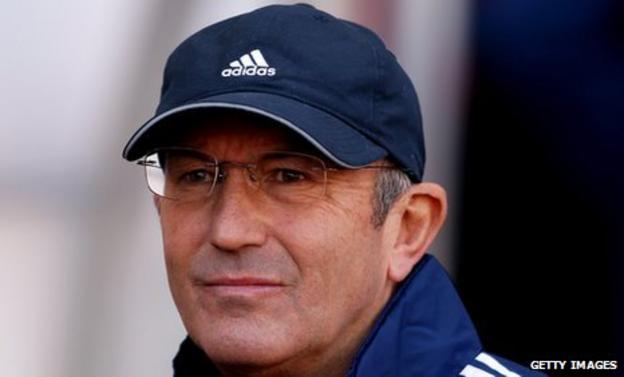 Stoke manager Tony Pulis is considering an appeal after being fined £10,000 and warned about his future conduct by the Football Association.
He attended a personal hearing.
Pulis said: "I'm very disappointed with the outcome. I have requested written reasons and am considering an appeal."
The Potters manager was infuriated by several of Probert's decisions at the Britannia Stadium.
He felt Jamie Carragher should have been sent off for a challenge on Matthew Etherington, thought a disallowed Jon Walters goal should have stood and that Peter Crouch should have been given a penalty.
Pulis also listed a series of previous grievances against Probert after the defeat by Kenny Dalglish's side.
He told BBC Sport: "It's got to be even-stevens and tonight we don't think it was even-stevens in terms of some of the decisions.
"You can't have some rules in one [penalty] box and different rules in the other.
"We have had Lee a few times now and had three goals disallowed: one at Aston Villa a couple of years ago, a great goal by Tuncay against Everton last year, and tonight it was a perfectly good goal.
"You will have to ask Lee why [he disallowed it] because we don't know."
Pulis claimed a Stoke player would have been sent off for a similar tackle to Carragher's.
He added: "It was a poor challenge. If one of our players had committed it, I would have expected him to get sent off.
"You have to have a level playing field - you can't have it both ways, and he [Probert] has done that in my opinion. He has not made the correct decisions."