Off The Bawl - 19 November
Last updated on .From the section Football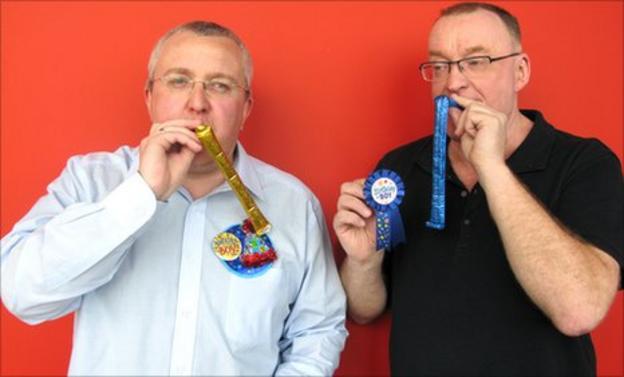 Off The Bawl with Tam Cowan.
Greeeeeetings!!! Our guests on Saturday were the young Scottish acting duo Sandy Nelson (Partick Thistle fan) and Keith Warwick (West Ham supporter) and the former Celtic and Aberdeen winger Joe Miller.
Keith once scored a winning goal for England (in a showbiz charity game at Wembley) which means it's probably the closest we'll ever get to having Desperate Dan Majstorovic in the studio...
But all we really wanted to talk about (check out the photo!) was his Fair Isle sleeveless top. Now, who is it he looks like...?
David Jason in Open All Hours? Michael Palin in Ripping Yarns? Or Peter Glaze in Crackerjack? ("Crackerjack!" - reader's voice.)
As a tribute to Sandy's team, we asked: What does Partick Thistle mean to you?
Meanwhile, in the week Coventry City announced plans to let supporters decide substitutions via premium rate text messages and Motherwell asked for ideas how to pack out Fir Park for the next Friday night game on December 2, we also wanted your thoughts on attracting fans back to football.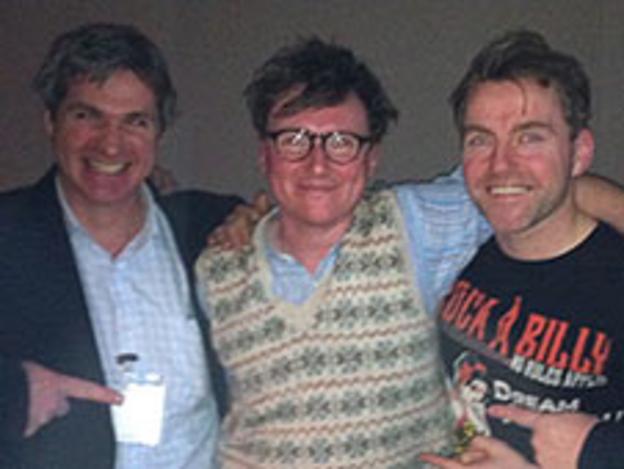 Joe Miller had a cracker. He told us that, in Dundalk, they once marked the pitch into hundreds of squares and raffled each one. Then, the night before the game, they allowed a cow to graze on the park... and the winner was whoever had picked the bit of turf where the first cow-pat landed!
Riggy in Inverness emailed to say: "Perhaps they could try this at Crappielow?"
Here's the rest of the most petty and ill-informed texts and emails on radio...
INNOVATIONS
Jeff the Arab from Crieff said: "If we had the text thing at Tannadice, big Gary Kenneth would be subbed before kick-off."
Jim the Jag said: "At the last Friday night game in the SFL, Partick Thistle did a curry, match ticket, programme and a pint for £36 in hospitality - and it sold out. Other clubs please take note."
Kinkyarab said: "When there's a penalty in the match, how about choosing a supporter to take it in the style of The Price Is Right. The ref shouts "Come on down!" and one lucky fan sprints from his seat in the stand."
Anon said: "Someone mentioned letting women in for free. Nah, what about offering a free woman to everyone who attends?"
Anon said: "Simple way to get the punters back - poledancers at half-time and topless pie-sellers."
(Did you notice how the two perverts wished to remain anonymous?)
WHAT DOES PARTICK THISTLE MEAN TO YOU?
Stephen in Ayr said: "The battle of two great goalies - Rough v Sproat - in a 3-2 goal-fest at Somerset Park in the 70s. It should really have finished 10-10."
Eddie in Mull said: "Partick Thistle to me simply means Andy Malcolm who drives his taxi here in Tobermory. He must be the only Thistle fan on the Isle of Mull."
David Gray in Springburn said: "To me, Partick Thistle is like a volatile marriage. They make me happy, they make me sad. Drink or drugs could never give me the highs and lows that PTFC provide."
Anne Marie in Edinburgh said: "To me, Thistle means a strange memory of Craig Ferguson wearing a Jags jersey in an Edinburgh Fringe production of The Odd Couple with Gerard Kelly."
Simon the Hibby said: "Only one thought immediately springs to mind - chips and curry sauce from the van at the back of the old terracing. Delicious."
Paul in Bearsden said: "My granda is buried at Firhill! He died in the 70s and was a big Thistle fan, so his ashes were scattered in the centre circle with Bertie Auld in attendance."
(Note: All of the above opinions were BEFORE the 1-1 draw with Culter in the Scottish Cup...)
TEAM OF THE WEEK
The Fish XI (aka Pollock Juniors)
President: Sepp Batter
Chief Executive: Lex Goldfish
Referee: Ian Tuna-in-Brines
1/ Bert Troutman
2/ Harry Haddock
3/ Steve Guppy
4/ Ray Whelkins
5/ Herring Berg
6/ Mussel Latapy
7/ Sardine Windass
8/ Connor Salmon
9/ Prawnaldo
10/ Diego Maradona (The Hand Of Cod)
11/ Fishing Rod Wallace
PS. On the subject of Terry Butcher being inducted in the SFA's Hall Of Fame, Al in Dunfermline said: "Butcher has only been included due to political correctness so we can make out we're not anti-English. Personally, I'd have sooner chosen Ray Clemence for his outstanding contribution to Scottish football..."
PPS. The song that played us out? Well, following the news that Vladimir Romanov is quitting Hearts, we finished with the Scottish press pack giving us a celebratory rendition of Hey Hey We're The Monkees!
To join in the fun on this Saturday's show, call 0500 929500, text 80295 or email offtheball@bbc.co.uk
Listen to the most recent Off the Ball programmes.
Download the latest Off the Ball podcast.