SPL secures new five-year TV deal with Sky and ESPN
Last updated on .From the section Football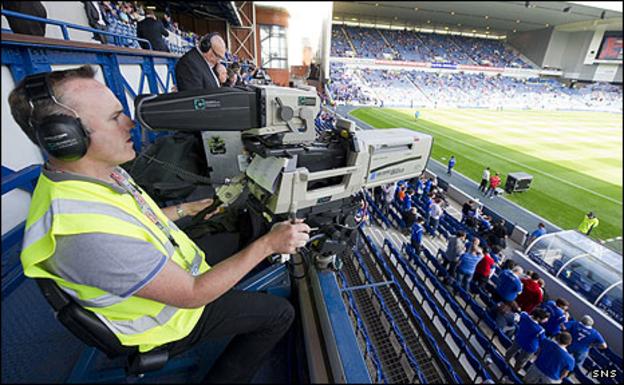 The Scottish Premier League has announced a new five-year contract extension with Sky Sports and ESPN for the live rights to matches.
Each broadcaster will continue to show 30 live games per season across the United Kingdom.
The new agreement will run from season 2012/13 and BBC Scotland has learned it will net top-flight clubs around £80m.
The SPL did not reveal details, saying only that the deal improves on the £65m five-year deal agreed in 2009.
The league's chief executive Neil Doncaster said: "Sky Sports and ESPN are two of the biggest names in sports broadcasting and the SPL has enjoyed an excellent relationship with both broadcasters over the course of the current contract, a period which has seen a 28% increase in viewing figures.
"In the current economic climate, announcing an increase in value is excellent news for our clubs."
Sky and ESPN stepped in to provide live SPL coverage when Setanta went out of business in the middle of their more lucrative rights deal.
The SPL had employed consultants IMG Media to instigate a feasibility study into the launch of their own television channel but that idea has been shelved.
"There was a good debate around it [SPL TV] and we've seen these kind of ventures succeed, most notably in Holland," Doncaster told BBC Scotland.
"But, at the end of the day, the stability, the increased money and working with reputable live broadcasters puts us in the best possible position."
The news comes less than two weeks after Clydesdale Bank announced they would end their sponsorship of the competition at the end of next season.
"To have a robust live broadcasting deal is absolutely fundamental to a title sponsorship deal and it puts us in good shape," added Doncaster.
Kick off times for live SPL matches have attracted criticism, particularly the noon or 1230 starts on Saturdays.
However, St Mirren chairman Stewart Gilmour believes it is a compromise worth making.
"We have to fit into the schedule," he told BBC Scotland. "There have been a lot of moans and groans but the players quickly get used to it.
"For a club like St Mirren, the TV deal is a huge part of our income and this five-year deal is fantastic news."