Lou Macari backs Swansea City for survival
Last updated on .From the section Football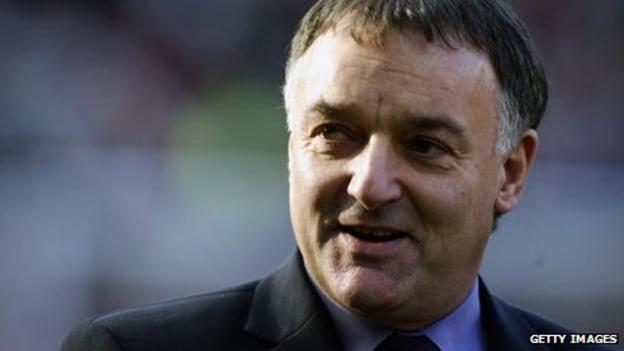 Manchester United great Lou Macari expects Premier League new boys Swansea City to avoid relegation this season.
"They've shown since they came up from the Championship that I don't think they're going to be one-season wonders," Macari told BBC Sport Wales.
"They're going to be staying there if they keep playing the way they are."
An early goal from Javier Hernandez proved enough for the defending Premier League champions, but United had to dig deep as Swansea pressed them hard at the Liberty Stadium.
"Early-season form, especially at home, told everybody that if you go to Swansea you're going to have to work hard for a victory, because no one has been able to do it until Saturday," said Macari, speaking to the BBC's Radio Wales Sport football programme.
"Away form at Anfield was good [with a 0-0 draw against Liverpool], they surprised everyone there as well.
"All credit to the manager [Brendan Rodgers] and the players, and of course you've got to have the supporters behind you, which they are.
"They've been a joy to watch and long may that continue."
Swansea will again be at home on Sunday when they entertain Aston Villa, who lost 2-0 away at Tottenham Hotspur on Monday night, and will look to at least consolidate 13th place in the table.
"I had pencilled them in as almost a certainty to go back down again, but to be truthful that was without having seen them play," Macari added.
"Swansea, where they come from they've fought hard to get to the Premier League but can they go one better and stay there I thought probably not.
"But having seen them now and seen other teams - teams like Wigan, Bolton Wanderers and Blackburn - who have got pedigree of Premier League football, everyone at the start of the season expected them just to stay up automatically.
"I don't think that's the case and certainly a couple of those... are earmarked to go down.
"Wigan, in particular, people keep saying they're a good footballing side but I don't see that.
"People were saying to me before Saturday that Swansea are a good footballing side and that's what I witnessed on Saturday, they are.
"Maybe on Saturday that was their undoing a little bit that they probably played too much football and didn't get the ball in to the box quick enough, and didn't put enough pressure on United.
"On another day if they'd done that they certainly could have got a draw and maybe even have got a victory.
"But you are what you are and I think you've got to stick with that. I think if Swansea stick [with their style], yes they'll come unstuck and overplay at times but it's got them where they are and there's no reason why it shouldn't keep them there."