Steve McClaren backs Harry Redknapp to be England manager
By Alistair Magowan
BBC Sport
Last updated on .From the section Football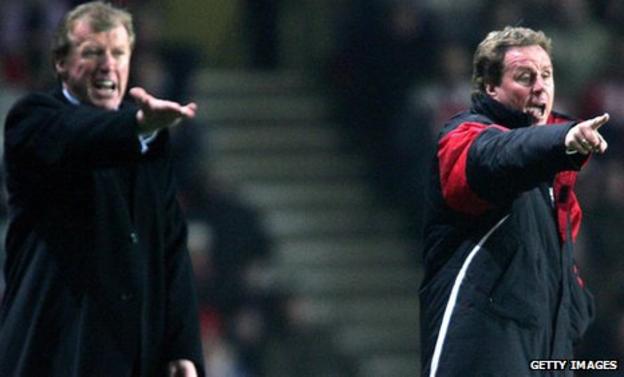 Former England manager Steve McClaren has backed Harry Redknapp to be the next national team boss.
The contract of current manager Fabio Capello runs out after the 2012 European Championship.
And McClaren said: "Harry's credentials are as good as anybody else's.
"I say the England manager has to be experienced, he has to have European experience, and he has to have won something. Harry fits the bill in all of those."
Redknapp returned to the Tottenham dugout as they beat Aston Villa 2-0 on Monday, after the 64-year-old underwent minor heart surgery.
He managed Spurs in the 2010-11 Champions League, including a famous 3-1 victory over Inter Milan at White Hart Lane, and he won the FA Cup with Portsmouth in 2008.
But McClaren, who was in charge of the national team from 2006 to 2007, believes the England manager, along with the Football Association (FA), must establish a footballing philosophy which would see the senior team, the Under-21s and the other youth sides play in a similar fashion.
The FA launched its blueprint for the future of English football, called Future Game, in January and it plans to open a new national training centre - St George's Park in Burton-on-Trent - in 2012.
The Premier League and Football League have also worked with the FA to develop the Elite Player Performance Plan, which will see clubs' academies and centres of excellence graded to provide a more joined-up development programme.
And McClaren said: "We are looking at the Spanish, the Dutch and the German games but we are the English game. We have to find what wins with England.
"There are a lot of very good things in English football, there are a lot of very good young players. But how are we going to win so everybody says, 'Wow, that's the English way'?
"There has to be a vision from the FA and that has to be from the academies all the way to the top and St George's Park is perfect.
"The English manager needs to be the best man to take that philosophy forward and the best man to get England winning.
"Ultimately we ought to have a long-term strategy, a long-term vision, not just [an idea of] what is going to win the next tournament."