Bournemouth's Darryl Flahavan struggles with FA Cup ball
Last updated on .From the section Football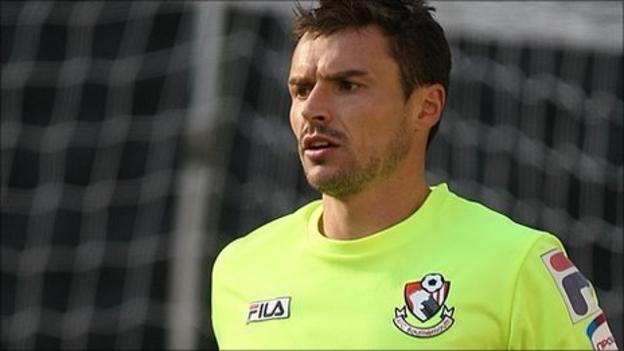 Bournemouth keeper Darryl Flahavan has described the new FA Cup ball as a "nightmare" in the run up to his side's first-round replay at Gillingham.
Flahavan, 32, said he would have expected to save two of the Gillingham goals that saw the visitors earn a replay by snatching a 3-3 draw.
"The new ball is a nightmare," Flahavan told BBC Radio Solent.
"It may sound to people like I am making excuses, but I'm not. It is very difficult to deal with."
Flahavan allowed a last-minute free kick though his grasp in the first-round tie at Dean Court and had earlier conceded from 35 yards.
The Umbro Neo Pro ball is being used for the first five rounds of the FA Cup this season and the Cherries stopper says the art of goalkeeping is dying because of the new design of footballs.
"It's tough, but we've all got to deal with it," he said.
"It moves around, it is lighter. You commit yourself to going one way and it goes another. There is a plastic coating around the ball which makes it slippery on your hands now.
"These big wigs who design these balls want high-scoring games and they want to deceive goalkeepers because they want a lot of goals.
"We've got to live with it and I don't want to go on about it too much, because I've got to play with it on Tuesday, but it is very difficult.
"The only way I can describe is when you kick a beach ball around and it moves everywhere in the wind."
He added: "It may sound to people like I am making excuses, but I'm not.
"There was a lot of debate at the World Cup and it just seems that this is the trend now that they want to design balls that allow 35-yard spectacular goals.
"The art of goalkeeping is going out of the window. We pride ourselves on technically sound, tidy goalkeeping and we can't do that anymore. You end up flapping around and you end up making yourself look like a bit of an idiot. It is frustrating."