Watford owner Laurence Bassini misses Q&A again
Last updated on .From the section Football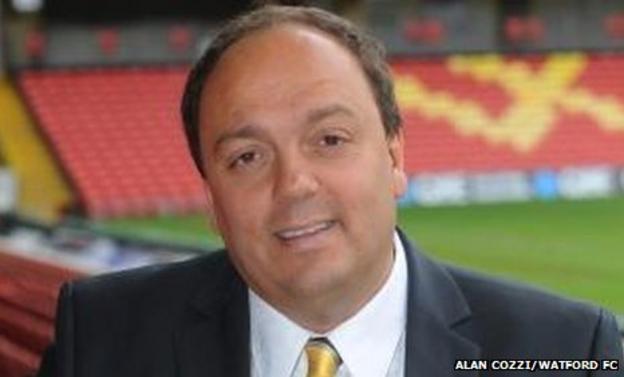 Watford owner Laurence Bassini has pulled out of an opportunity to face supporters' questions for the second time in two weeks.
But the Stanmore-based businessman has said he is still suffering from the illness which prevented him from attending a fans' forum on 8 November.
"I'd like to sincerely apologise to all Watford fans for [Tuesday] having to be postponed," he told the club website.
"I have had all the best intentions when it comes to both this and the fans' forum before it.
"I want to do the right thing and talk directly to supporters but I don't feel well enough to do that.
"I really wanted to do this as soon after the fans' forum as possible. And I thought that a week or so would be long enough for me to fully recover.
"So now, to make sure that I've had a chance to get properly back on an even keel, I'm going to ask BBC Three Counties to re-arrange the phone-in for some time early in the new year."
Hornets chairman Graham Taylor said he was "extremely disappointed" after Bassini's first no-show, which was hosted by the club.
Taylor's comments led to the owner considering his position on the Vicarage Road board, before the pair put their differences aside.